This review is taken from PN Review 228, Volume 42 Number 4, March - April 2016.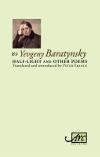 Elysium on Earth
Yevgeny Baratynsky, Half-light & Other Poems bilingual edition, translated and with an introduction by Peter France Arc Publications, 2015
£9.99

For decades, in the absence of inspired translations, it was nearly impossible to convince Anglophone readers of Alexander Pushkin's genius. One could make all the claims one wanted, but there was simply no way to prove them. Slowly but surely, the case for Pushkin improved. The poet's defenders can now muster hard evidence, including Stanley Mitchell's sparkling recreation of Eugene Onegin (2008). But how much worse the situation has been for Pushkin's brilliant contemporaries. Konstantin Batyushkov (1787–1855),

Pyotr Vyazemsky (1792–1878), and Yevgeny Baratynsky (1800–1844) remain virtually unknown outside Russia. One hopes that Peter France's sensitive and graceful translations of Baratynsky, whom he compares to Giacomo Leopardi in both spirit and stature, will finally win Pushkin's most original and accomplished peer an appreciative readership in the Anglophone world.

Baratynsky, for his part, was prepared to wait. A brief lyric of 1828 expresses – and demonstrates – the modesty of his aspirations and the austerity of his vision:


My talent is pitiful, my voice not loud,
but I am living; somewhere in the world
someone looks kindly on my life; far off
a distant fellow-man will read my words
and find my being; and, who knows, my soul
will raise an echo in his soul, and I
who found a friend in my own time,
will find a reader in posterity.


Born into a noble family, Baratynsky seemed destined for a career as an officer, but he was expelled from the Page Corps ...
The page you have requested is restricted to subscribers only. Please enter your username and password and click on 'Continue'.
If you have forgotten your username and password, please enter the email address you used when you joined. Your login details will then be emailed to the address specified.
If you are not a subscriber and would like to enjoy the
266
issues containing over
10,800
poems, articles, reports, interviews and reviews, why not
subscribe
to the website today?