This review is taken from PN Review 228, Volume 42 Number 4, March - April 2016.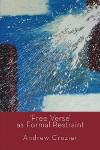 Reading English
Andrew Crozier, 'Free Verse' as Formal Restraint: An Alternative to Metrical Conventions in Twentieth Century Poetic Structure (Shearsman) £14.95
Harriet Tarlo, Poems 2004-2014 (Shearsman) £9.95
Peter Riley wrote that 'there have been few writers whose radicalism went to the roots of language's relationship to experience as that of Andrew Crozier' (
www.theguardian.com/books/2008/jul/21/culture.obituaries
). Yet until recently much of his work was out of print or scattered in small press publications. In 2012, Ian Brinton edited
A Crozier Reader
(Carcanet), a selection of Crozier's poetry and prose, and in 2013
Thrills and Frills: Selected Prose
(Shearsman). Brinton has now edited an unpublished early critical work for Shearsman. It makes for a fascinating complementary volume. From Brinton's Introduction, we learn that this work was Crozier's PhD thesis, presented to the University of Essex in 1973. His examiner was J.H. Prynne.
Crozier begins thus:
My intention in writing this thesis has been to cast some light on the
prima facie
case that free verse, in abandoning the exercise of metre, has abandoned that principle of restraint upon which the creation of artistic form depends. This point of view contrasts with a general contention on the part of the exponents of free verse that their works possess form which is not only unique but which also bears an immediate relation to the significance of the work, a relationship felt to be 'musical', although not in any directly analogical sense. (p. 13)
He makes his case through an examination of discussions of poetic theory and notions of rhythm and metre that have taken place in English poetry since the sixteenth century. It is not enough, ...
The page you have requested is restricted to subscribers only. Please enter your username and password and click on 'Continue'.
If you have forgotten your username and password, please enter the email address you used when you joined. Your login details will then be emailed to the address specified.
If you are not a subscriber and would like to enjoy the
271
issues containing over
11,000
poems, articles, reports, interviews and reviews, why not
subscribe
to the website today?