This review is taken from PN Review 228, Volume 42 Number 4, March - April 2016.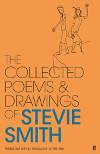 'I would give you Leaves of Grass…'
Stevie Smith Collected Poems and Drawings of Stevie Smith
ed. & introduced by Will May
Faber and Faber
£35 (hb)

There can't be many poets whose collected works, issued in an academically rigorous and handsomely produced hardback volume, have the potential to give a reviewer bad dreams; perhaps Stevie Smith is the only one. Certainly, Will May's fresh survey of the eight poetry collections Smith prepared for publication (along with a substantial batch of hitherto uncollected poems and thirty pages of previously unpublished poems) is a testament to the uniqueness of her art.

Faithful to the presentation of the individual collections, the book allows plenty of space for Smith's unobstructive language and striking line drawings to work their strange magic. As May notes, the illustrations 'are as likely to put us on our guard as provide relief'; they rarely display any clear relationship to the poems' content, and the majority despite their apparent playfulness exude a sinister quality. The thin paper characteristic of Faber's newer collected editions has here the bonus effect of creating ghost illustrations, as figures belonging to other poems can be seen sneaking about through the pages, intensifying the already unsettling atmosphere of the poems.

In his brief, engaging introduction, May describes Smith's inconsistent approach to publication – how she 'agonised over which poems and drawings to include in individual books', yet happily 'changed words, titles or illustrations to dodge copyright issues' and would decide which version of a published poem to reprint in a collection based on which newspaper could supply the copy first. She also habitually amended poems in her reading and performance copies but hardly ever passed ...
The page you have requested is restricted to subscribers only. Please enter your username and password and click on 'Continue'.
If you have forgotten your username and password, please enter the email address you used when you joined. Your login details will then be emailed to the address specified.
If you are not a subscriber and would like to enjoy the
261
issues containing over
10,500
poems, articles, reports, interviews and reviews, why not
subscribe
to the website today?