This review is taken from PN Review 227, Volume 42 Number 3, January - February 2016.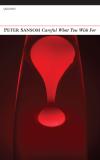 Not Winning: Joyously
PETER SANSOM
Careful What You Wish For (Carcanet, 64pp PB) £9.99

There is a sense in which every poem, at the same time as doing whatever it does with its whole bag of tricks, comments on itself doing that thing. Even the act of summoning the word 'poem' is a kind of meta-commentary, and for some poets – Peter Sansom among them – that commentary is imbued with irony. I don't mean irony in a humorous sense (though Sansom is often funny): it's more profound than that. And easily, I think, misread or skipped over when plainly expressed.

Certainly, 'Cross-Country' in Careful What You Wish For might be quickly galloped through on the way to the next page. Kim Moore picked it out in her blog as her 'Sunday poem', because she loves running, and that's what it's about. It's also about writing, and about what being a poem means, or what being this poem means. The first word of each line is capitalised (the old poetic tradition). This is subverted by line endings that open into white space: no full stops. So the rhythm is jerky: all starting and no fluency or resolution. 'Cross country', says the poet, is 'the sport of also-rans'. He addresses the sport as 'you' though, and if Cross Country isn't a sort of Muse in this poem, I'll eat the straw hat celebrated in the love poem on page 29.

'Cross Country' is about not winning. Joyously. Which is largely what Peter Sansom has done in his published poetry up to now. A poet with ten collections to ...
The page you have requested is restricted to subscribers only. Please enter your username and password and click on 'Continue'.
If you have forgotten your username and password, please enter the email address you used when you joined. Your login details will then be emailed to the address specified.
If you are not a subscriber and would like to enjoy the
265
issues containing over
10,700
poems, articles, reports, interviews and reviews, why not
subscribe
to the website today?