This review is taken from PN Review 227, Volume 42 Number 3, January - February 2016.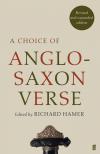 Anglo-Saxon Attitudes
RICHARD HAMER (ed.)
A Choice of Anglo-Saxon Verse (Faber, revised and expanded edition, 227pp PB) £10.99
Many years ago I acquired a copy of Hamer's
Choice of Anglo-Saxon Verse
in its first edition (1970). This text, with its generous selection of shorter Anglo-Saxon poems set with facing, parallel translations, has been useful ever since. A slightly expanded and revised edition is to be welcomed, particularly as the new edition includes poems such as the allegorical 'The Whale' (from
The Exeter Book
) –

….Fastitocalon
Is the name given to this ocean-goer.
His surface is just like scabby stone….

(p. 201)

– and 'The Fates of the Apostles' (by Cynewulf, from
The Vercelli Book
), where the apostles are presented in the guise of Germanic warriors: 'Likewise Andrew [...] won eternal glory for himself / And endless light, when, bold in war and brave / Among the troops, after the battle-play, / He rode upon the gallows, on the cross' (p. 209).
Included here, as in the first edition, are the great elegies ('The Seafarer', 'The Wanderer', 'Deor'), a grand selection of riddles and gnomic verses, elegiac vision ('The Dream of the Rood'), shorter and/or fragmentary epics ('The Battle of Brunanburh', 'The Battle of Maldon'), poems frankly didactic ('Almsgiving'), introductory ('Metrical Preface to the
Pastoral Care'
) or elusive (such as the poem known as 'The Husband's Message'). This inclusiveness is splendid, and any reader engaging with Anglo-Saxon verse and versecraft for the first time won't be disappointed (and may well be surprised) by the range of genres translated here. After all, when (or ...
The page you have requested is restricted to subscribers only. Please enter your username and password and click on 'Continue'.
If you have forgotten your username and password, please enter the email address you used when you joined. Your login details will then be emailed to the address specified.
If you are not a subscriber and would like to enjoy the
266
issues containing over
10,800
poems, articles, reports, interviews and reviews, why not
subscribe
to the website today?