This review is taken from PN Review 227, Volume 42 Number 3, January - February 2016.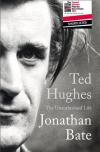 Sex-Heavy, Plath-centric
JONATHAN BATE
Ted Hughes: The Unauthorised Life (William Collins, 672pp HB) £30

Toward the end of this book's somewhat scatterbrained prologue, Jonathan Bate offers the high-minded principle that 'The life is invoked in order to illuminate the work; the biographical impulse must be at one with the literary-critical.' One wishes Bate had referred to this rule a little more often when writing his book.

Instead – and in spite of a dutiful account of Hughes's childhood and student career – Ted Hughes: The Unauthorised Life is unbalanced by its preoccupation with its subject's sexual adventures. Bate accepts the notion that women for Hughes were muse figures, à la Robert Grave's The White Goddess, and in accepting this he too often denudes his depiction of Hughes's relationships of any real emotional substance, replacing human feeling with a kind of mytho-carnal pattern fulfilment. That's putting it one way; to put it another, Bate has an eye for tawdry detail, even when there's no actual sex involved. Thus, when we meet Joanna Mackle, 'a senior figure at Faber and Faber to whom he became very close', she is foremost described as 'blonde and glamorous'. Hughes may well be guilty of viewing women as the physical and metaphysical furnishings of a phallocentric world, but it is the job of the would-be critic-biographer to interrogate this view, not to participate in its tired rehearsal. Yet here we have a high ranking staffer at an important literary press reduced to a centrefold pin-up cliché. There is no suggestion of any sort of physical relationship between Hughes and Mackle – unless that 'very close' ...
The page you have requested is restricted to subscribers only. Please enter your username and password and click on 'Continue'.
If you have forgotten your username and password, please enter the email address you used when you joined. Your login details will then be emailed to the address specified.
If you are not a subscriber and would like to enjoy the
266
issues containing over
10,800
poems, articles, reports, interviews and reviews, why not
subscribe
to the website today?