This review is taken from PN Review 226, Volume 42 Number 2, November - December 2015.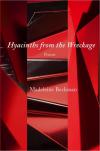 On taffeta, ferry rides and socks
MADELEINE BECKMAN, Hyacinths from the Wreckage (Serving House Books) £8.77

A poet who called her first collection Dead Boyfriends was always going to be a surprise read. In her third book Hyacinths from the Wreckage, Madeleine Beckman – New York poet and teacher – invites us on a dance through memory and time, sharing as she goes a particular window on American life.

Her first section introduces a Philadelphia childhood where her mother played centre stage. Here was a woman who bought her daughters taffeta dresses with money she should have spent on bread, taught them to appreciate opera, French cooking, lipstick and most of all to dream. In 'Cedar Road, 4th Grade' Beckman turns the shame she felt over her mother's eccentric hemming of her party dress into humour: 'Everyone laughed at my skirt, I told her. / Taking a drag on her cigarette, / she assured, They're just jealous /they didn't have staples too.' Her father appears a slightly more grounded presence, endlessly positive and advising his daughter, 'Be happy you have a seat on the ferry boat, be happy / you don't have to stand.' This approach brings Beckman through some poems describing her mother's decline, railing against diabetes, relieved by the kindness of relatives and restaurant staff, and at times her own witty quips. Interrupted during her favourite television programme by a nuisance caller her mother once responded, 'You know, I love talking / dirty, but could you call me back in 20 minutes? / The stranger hung up before she did.'

The book's second section concentrates on lovers and partners, where Beckman is startlingly honest about ...
The page you have requested is restricted to subscribers only. Please enter your username and password and click on 'Continue'.
If you have forgotten your username and password, please enter the email address you used when you joined. Your login details will then be emailed to the address specified.
If you are not a subscriber and would like to enjoy the
271
issues containing over
11,000
poems, articles, reports, interviews and reviews, why not
subscribe
to the website today?