This review is taken from PN Review 226, Volume 42 Number 2, November - December 2015.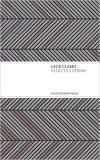 CLAYEY WATER
Jack Clemo, Selected Poems (Enitharmon Press) £9.99

'Uncomfortable' doesn't quite do justice to Jack Clemo's approach of sex, religion and place in his poems – newly selected by Luke Thompson. However, the discomfort that comes from reading Clemo is bracing, thought-provoking and proves Clemo's voice to be one that deserves more attention. Often thought of as a Cornish regional writer akin to his contemporary Charles Causley, Clemo's work chafes against this provincial label in being featured by Poetry Review and later published by Bloodaxe. This selected poems published by Enitharmon Press is the first time a selection has been made from the full range of Clemo's work (beginning in the 1940s and ending in the 1990s) and so provides a thorough and excitingly diverse introduction to Clemo's work.

'Plundered Fuchsias', in the opening pages of this edition, is a poem omitted from the previous selected poems of Clemo published by Bloodaxe, which gives more space to Clemo's later work than his early work. Opening with the surprisingly violent, sexual simile of the fuchsias 'like little red bombs winged and splayed', this poem provides a radical alternative to Wordsworth's 'Nutting'. Clemo depicts 'a child's whim': a girl who plucked fuchsias and 'squeezed the calyx, nipped / till up welled honey'. As Clemo notes the 'pistil-shafts blue-tipped', 'her tongue pressed backward', the poem takes on a more physical, Lolita-esque tone. Indeed, this child 'turned more naughtily / And gave her lips to me'. There's little chance this speaker's voice could also belong to a child given that vocative 'Dear God, but it was heaven'. Yet the ...
The page you have requested is restricted to subscribers only. Please enter your username and password and click on 'Continue'.
If you have forgotten your username and password, please enter the email address you used when you joined. Your login details will then be emailed to the address specified.
If you are not a subscriber and would like to enjoy the
271
issues containing over
11,000
poems, articles, reports, interviews and reviews, why not
subscribe
to the website today?