This review is taken from PN Review 226, Volume 42 Number 2, November - December 2015.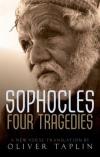 The Fifth Beatle
Sophocles: Four Tragedies, trans. Oliver Taplin (Oxford University Press) £20 hardback

There is no shortage of modern English translations of Sophocles. With only a cursory glance at a library catalogue, the average Cambridge English student facing the Tragedy paper – which, in May, was yours truly – must choose from somewhere in the region of forty translations. What, then, can Oliver Taplin's new translation of Sophocles's four 'male' tragedies (Oedipus the King, Oedipus at Colonus, Aias and Philoctetes) bring to our appreciation of the great dramatist when so many have gone before it? This is a question Taplin himself is keen to address in his good-humoured (if somewhat arch) preface and short essay on 'The Priorities of this Translation'. First and foremost he is keen to stress the importance of the fact that he has rendered the plays in verse, as part of an effort to 'abandon the safe pedestrian homogeneity that is the hallmark of so many modern translations'. In such translations he sees an 'underlying supposition that plain prose keeps closer to the original Greek, and that unobtrusive modesty is somehow more faithful'. It is a supposition which Taplin does not share. 'Poetry calls for poetry,' he writes, 'or at the very least, for verse.' No surprise from a man who, during his thirty-five years as fellow and then Emeritus Professor of Classics at Oxford, has focused his research on the material culture and performance of poetry and drama, collaborating with several theatrical productions of Greek tragedies along the way. Versification is clearly not something one can simply take or leave when considering ...
The page you have requested is restricted to subscribers only. Please enter your username and password and click on 'Continue'.
If you have forgotten your username and password, please enter the email address you used when you joined. Your login details will then be emailed to the address specified.
If you are not a subscriber and would like to enjoy the
266
issues containing over
10,800
poems, articles, reports, interviews and reviews, why not
subscribe
to the website today?