This review is taken from PN Review 226, Volume 42 Number 2, November - December 2015.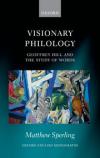 Rutterkin
MATTHEW SPERLING, Visionary Philology: Geoffrey Hill and the Study of Words (Oxford University Press) £60

As Geoffrey Hill's 'mad typewriter' (Liber Illustrium Virorum, XXVI) production of verse continues to gather apace, with the profusion of books from Canaan (1996) onwards culminating in 2013's publication of the voluminous collected poems, Broken Hierarchies, the need for critics and scholars alike to tarry to take stock of this experimental and exhilarating output will no doubt have been keenly registered by many of Hill's readers. Recent years have seen two edited collections (a Salt Companion is also due) and numerous shorter pieces rising to the challenge of tackling Hill's oeuvre, both early and late. But a book-length study is perhaps better suited to the task of assessing a career in poetry which now spans over sixty years and almost a thousand pages.

Enter Matthew Sperling's Visionary Philology. Its appearance close on the heels of Broken Hierarchies means that it tarried perhaps too soon to offer much more than a cursory consideration of the most recent material, such as the revisions, expansions, and the four remaining Daybooks (2007–2012). Nonetheless, Sperling's plundering of the archive – lecture notes, index cards, unpublished sermons, research proposals, private correspondence, typescripts, speeches, interviews, early drafts, notebooks, photocopies, syllabus descriptions, reading notes, orations, public dialogues, book readings, teaching material, and unidentified clippings all jostle for space here with the verse up to 2012's Odi Barbare and critical prose – makes this study an invaluable and highly revealing document of Hill's poetic and scholarly life. Indeed, Sperling, 'by a sleight of hand', he admits, expressly seeks to equate Hill's ...
The page you have requested is restricted to subscribers only. Please enter your username and password and click on 'Continue'.
If you have forgotten your username and password, please enter the email address you used when you joined. Your login details will then be emailed to the address specified.
If you are not a subscriber and would like to enjoy the
271
issues containing over
11,000
poems, articles, reports, interviews and reviews, why not
subscribe
to the website today?