This review is taken from PN Review 226, Volume 42 Number 2, November - December 2015.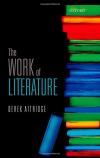 Difficulties of Demarcation
DEREK ATTRIDGE, The Work Of Literature (Oxford University Press) £35

Derek Attridge's latest book opens with a kind of verbal selfie, an interview in which he plays a double part, asking and answering the questions, and sometimes letting himself off the hook rather easily, like those Socratic dialogues where the interlocutor too readily agrees to the propositions that ensure the sage wins the argument. Attridge calls it 'A Cross-Examination' but it is more fulsome than forensic. Nine chapters follow, with one-word titles running from 'Justice' to 'Hospitality', which draw to some extent on previously published work – the first, for example, appeared in PNR 182 as 'Can we do justice to literature?'

Attridge has been closely associated with Jacques Derrida, who, in his heyday, could seriously damage a critic's health, but Attridge's other interests acted as antidotes: the literature of South Africa (where he grew up), especially the work of J. M. Coetzee; James Joyce; and, most pertinent to PNR, poetic form and rhythm. Citations of Derrida in this book are largely from Jacques' later ages, when he slipped into inadvertent self-parody, and they now have the feel of reminiscence work, as if a benign old gentleman were being allowed to putter on about his hobby-horses before being given his tea and put to bed. But Attridge escapes the geriatric gyre of late deconstruction: he keeps his 'central focus on the question of the distinctiveness and value of the cultural practice we call "literature"' and comes up with some invigorating if invalid answers.

For Attridge, the work of literature is not ...
The page you have requested is restricted to subscribers only. Please enter your username and password and click on 'Continue'.
If you have forgotten your username and password, please enter the email address you used when you joined. Your login details will then be emailed to the address specified.
If you are not a subscriber and would like to enjoy the
271
issues containing over
11,000
poems, articles, reports, interviews and reviews, why not
subscribe
to the website today?