This review is taken from PN Review 226, Volume 42 Number 2, November - December 2015.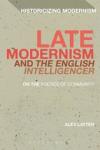 News that Stays News
ALEX LATTER, Late Modernism and The English Intelligencer (Bloomsbury) £64.99

The subtitle of this new book on the world of The English Intelligencer is 'On the Poetics of Community' and that directs us immediately to the nature of corporate endeavour that lay behind this remarkable poetry worksheet which ran over three series between January 1966 and April 1968. As Alex Latter argues, this worksheet 'is a key publication in the history of poetic modernism in Britain' and it 'established a vital centre of modernist practice at a time when the prevailing norms of British literary culture were supposedly marked by a shrinking away from experimental practices'. Andrew Crozier gave a short account of the Intelligencer and its manuscripts in July 1969, stressing its importance 'as an attempt to draw together various English poets whose work was thought of as avant garde' and who were, for instance, 'strongly aware of contemporary American work'. As Latter sees it, the prompting impulse behind the Cambridge publication which brought together poets ranging from J. H. Prynne to Barry MacSweeney, Andrew Crozier to Lee Harwood, Peter Riley to John James, was a desire 'rooted in the perceived need to restore a lost vitality to British poetry' and the thirty-six issues published reflected the increasing recognition of the power of Donald Allen's Grove Press anthology The New American Poetry, which had appeared in 1960.

Alex Latter points to an interesting comparison between the Donald Allen anthology and Robert Conquest's influential New Lines collection of post-war British poets. The difference between the 'formal and prosodic values' of the poetry anthologised by ...
The page you have requested is restricted to subscribers only. Please enter your username and password and click on 'Continue'.
If you have forgotten your username and password, please enter the email address you used when you joined. Your login details will then be emailed to the address specified.
If you are not a subscriber and would like to enjoy the
266
issues containing over
10,800
poems, articles, reports, interviews and reviews, why not
subscribe
to the website today?