This article is taken from PN Review 212, Volume 39 Number 6, July - August 2013.
Vestiges 3: Patrick Brontë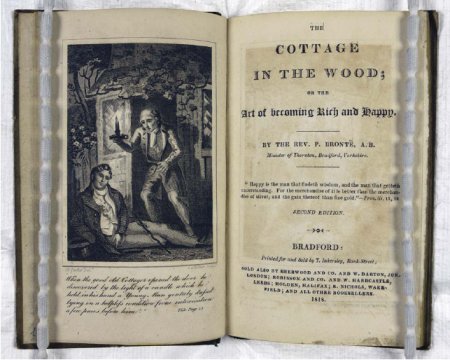 Reproduced by permission of the Master and Fellows of St John's College, Cambridge. Patrick Brontë studied theology at St John's, 1802-1806
While his title threatens quaintness, Patrick Brontë expresses at the opening of The Cottage in the Wood (1815) his determination not to patronise the rural poor. He scorns the 'sensual novelist' who portrays palaces as 'the certain abodes of misery' and cottages as 'the never-failing sources of happiness'; such notions are rooted in material wealth, ultimately immaterial to the question of one's soul.
But well-worn fictions are apparently useful: having railed against the clichés of the noble poor and the corrupt rich, Brontë writes of William Bower - the drunken, licentious and rich atheist pictured here in the 1818 edition's frontispiece - ultimately finding God and happiness via Mary, the strong-willed and 'interesting' daughter of the Cottage's Christian household. (This, sweetly, from an author whose daughters could not be called uninteresting.) Bower's religious awakening - his conversion from an opportunist of the boudoir (bower) to a humbled (bowed) addition to the Cottage (bower) family - comes when he loses his money, and while he and Mary are financially secure when married, the suggestion remains that one must find happiness in poverty in order to possess it when rich.
By not mattering, the material world matters; Brontë finds literary and theological value in accepting, reluctantly, this paradox. Poems follow the prose, and in 'The Pious ...
The page you have requested is restricted to subscribers only. Please enter your username and password and click on 'Continue'.
If you have forgotten your username and password, please enter the email address you used when you joined. Your login details will then be emailed to the address specified.
If you are not a subscriber and would like to enjoy the
271
issues containing over
11,000
poems, articles, reports, interviews and reviews, why not
subscribe
to the website today?