Readers are asked to send a note of any misprints or mistakes that they spot in this item to
editor@pnreview.co.uk
This item is taken from PN Review 185, Volume 35 Number 3, January - February 2009.
Editorial
In 1970 John Ashbery wrote, 'When I was a small child there was a box in the attic containing neatly trimmed scraps of material that had once belonged to dresses, aprons, blouses, dish towels, and which were apparently intended for a quilt that never got made. I was fascinated by them and used to pore over them with the zeal of an Egyptologist. There was a language there.'
The image on the cover of this issue of
PN Review
is taken from the Tibor de Nagy Gallery exhibition in September and October of twenty-four collages by John Ashbery. Readers can view much of the exhibition on Tibor de Nagy's website (www.tibordenagy.com/#/artists/) and the
New York Times
's (www.nytimes.com/slideshow/ 2008/09/ 12/arts/0914-COTT_index.html). The humour of the works, their unaffected generosity of spirit, their effortless bridging of cultures and periods are of a piece with Ashbery's verse and prose writing. Visual and verbal puns and echoes play over them in a spirit at once nostalgic and ironic.
Some of Ashbery's best art criticism was collected in
Reported Sightings
(1989) and
Selected Prose
(2004). The
Prose
includes a piece about the artist Joe Brainard (1942-95) written for a retrospective at the Tibor de Nagy Gallery in 1997. 'Joe Brainard was one of the nicest artists I have ever known,' he begins. 'Nice as a person, nice as an artist.' He puzzles over what 'nice' entails in an artist, as against the work of artists who 'aren't quite nice', who challenge and confront. Brainard hardly seems to belong among them, so tolerant, welcoming and benign is his intent, though the pictures, as Ashbery evokes them, are clear and unambiguous. Ashbery speaks of their 'curative newness', to which he likes to return over and over. He loves how they are content in their modesty, their formal accessibility and provisionality.
The Waste Land
is collage, but so too is Ashbery's 'Poisson d'Avril', in a different manner, on a different scale, in the spirit of Joe Brainard.
Most of Ashbery's collages were made in the 1970s when he visited Brainard in Vermont. They spent evenings 'sitting around and cutting up old magazines and making collages', the poet told Holland Cotter of the
New York Times.
The most recent piece in the exhibition, completed in 2008, was an homage to Brainard made of bits and pieces Brainard had sent Ashbery to play with.
The collages often consist of a postcard base, a couple of cut-out elements, and a title. The interplay of congruities and incongruities, of plastic and verbal, are the simple, resonant essence of this collaging. 'Poisson d'Avril', Cotter writes, 'goes for camp. Here a Little Lord Fauntleroy figure, gender uncertain, laden down with a basket of flowers, appears against a starburst of pleated pink tulle that could be an aura or a splayed-out tutu. The tableau, set against a postcard view of a sequoia forest, is like a unisex version of Hansel and Gretel choreographed by
Les Ballets Trockadero.
'
'Après un Rêve' (from 1977 or thereabouts) is essential Ashbery. Reduced and in black and white, as here, it loses the delicate flesh-tones of the little boy who holds on his knee, in a frame, the black and white image of two adults on the verge of intimacy. Even thus reduced, the image is haunting. Candour and innocence look us in the eye, while the man and woman in the frame focus upon one another and the adult act they are about to commit. (Or is it a mirror the child is holding?)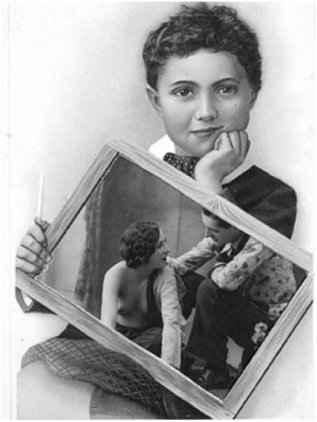 The
Times Educational Supplement
of 17 October 2008 reported that poetry is in severe decline. 'The teaching of poetry is being undermined by the free market,' Jonathan Douglas, director of the National Literacy Trust, warned. The consequences for the art are not far to seek: 'only one major publisher, Macmillan, now publishes new poetry for children'.
'I would argue over whether the market knows best in this instance,' he added; and, 'The best advocates are poets themselves. While reading is seen as an individual activity, poetry is a social activity. There also needs to be a demystification of poetry. There is an assumption that poetry is difficult, not just among booksellers but among teachers.' Several questions are begged here, not least that poetry is 'a social activity' and that, after a whole generation of Roger McGough and Michael Rosen, poetry retains any mystification whatever. He might better ask, to what extent are the contemporary children's poets not themselves responsible for the estrangement of young readers and of teachers from the art? The Director of the Trust declares: 'Poetry has sat at the heart of British experience for thousands of years. It would be very sad if it shifted from that position.' A sitting position? Poetry, Pound insisted, should be at least as well written as prose. And prose might return the compliment and learn a lesson or two from poetry, about syntax, register and cliché.
Poetry has also been in the news because of Andrew Motion's impending retirement as Poet Laureate. Will the general public be involved in the selection of his successor? The media hope so. A friend suggested a better idea: distribute the role, giving different poets different Laureate specialisms. Pam Ayres for royal births, Geoffrey Hill for royal demises. Wendy Cope can focus on divorces and Christopher Logue on wars. Another possibility: a Laureate Time-Share. Or, best in terms of selling out the art, a proposal right up the National Literacy Trust's street: a
Poet Idol
competition open to everyone, from Armitage to Zephaniah, Duffy to Prynne, Fenton to Mitchell, the provincial heats recorded for the National Poetry Archive.
Back in May the
Independent
suggested that Jackie Kay was 'running for the position' of Laureate - a foot race, perhaps, as with Atalanta and the golden apples. In the starting stalls with her were Wendy Cope, Lavinia Greenlaw, Fleur Adcock, Ruth Padel and the runaway favourite Carol Ann Duffy. Does Hippomenes have a chance? Just for the record, an outstanding woman poet was once nominated: she declined the appointment because she feared it would limit her freedom to speak out on the issue of slavery. Instead of her, Tennyson was summoned to the marmoreal bosom of the Establishment, and he clung there almost for ever.
Does the Laureateship matter? It always
seems
to: something is at stake, especially now, after Andrew Motion's exemplary tenure. He has transformed what was a sometimes rather fusty honour into a true vocation.
This item is taken from PN Review 185, Volume 35 Number 3, January - February 2009.