This article is taken from PN Review 182, Volume 34 Number 6, July - August 2008.
Dollhouse
I

Oh, if this old house could talk,
what a story it would tell;
it would tell about the good times
and the bad times as well.
It would tell about the love that lived
and died inside these walls...
Why, if this old house could talk,
all it would say is welcome home.
- Loretta Lynn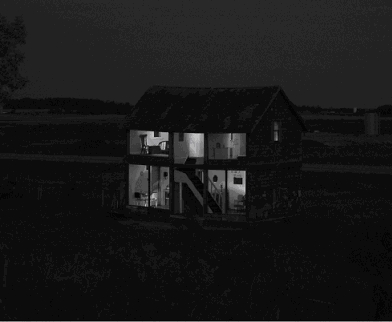 'Dollhouse', Sinclair, Manitoba. (Photo: Heather Benning)
In Autumn, as the school bus pulled away from our yard, Heather and I would run to the house, throw aside our school outfits for our worn out 'work clothes', and head to the back forty of our farm where there was an old wooden granary. We spent hours cleaning that granary, though no amount of scrubbing rid the musk of decaying wood, barley chaff, mouse shit, and the debris of swallow nests. If asked what we were up to, we'd mutter something about playing 'pioneer', though this was more of an expedient explanation than an actual indicator of what we were doing. Together, but isolated - both of us immersed in our own imagined worlds - Heather and I staged and restaged the granary with rain-bloated furniture, torn books and nick-knacks that we found scattered in the rock-pile behind the dugout, or in the attic of the barn. If we got hungry, we'd raid the ripe ...
The page you have requested is restricted to subscribers only. Please enter your username and password and click on 'Continue'.
If you have forgotten your username and password, please enter the email address you used when you joined. Your login details will then be emailed to the address specified.
If you are not a subscriber and would like to enjoy the
266
issues containing over
10,800
poems, articles, reports, interviews and reviews, why not
subscribe
to the website today?