This article is taken from PN Review 174, Volume 33 Number 4, March - April 2007.
Sketching Auden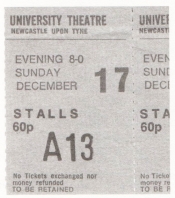 Auden was to read on a Sunday evening at eight o'clock on 17 December 1972 in what was then the University Theatre in Newcastle upon Tyne. It was inevitable that I should go. I was a young lecturer in the English Department of the University and always a lover of Auden's work. I had also been fascinated by his face, that craggy jigsaw that looked as if it had been loosely and somewhat carelessly assembled from random small blocks. It was an icon of poetry and I wanted to see it close and clear. So I bought my ticket for the middle of the front row - I still have the ticket for seat A13 - and took a small sketch book and pencil as I usually do. The position on the front row explains the viewpoint of the sketches, looking up at the poet.
He came a little late, and was introduced by Eric White, who said that he needed no introduction and gave one. He looked as old and tired as his baggy suit and he shuffled onto the stage in his carpet slippers.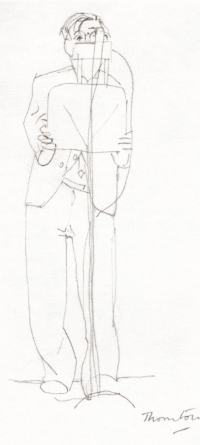 I can't remember which poems he read, but I can remember that he began by reciting them from memory, as was his usual practice. But he began to forget lines and stumble over the verses, and so went to get a copy of his ...
The page you have requested is restricted to subscribers only. Please enter your username and password and click on 'Continue'.
If you have forgotten your username and password, please enter the email address you used when you joined. Your login details will then be emailed to the address specified.
If you are not a subscriber and would like to enjoy the
263
issues containing over
10,600
poems, articles, reports, interviews and reviews, why not
subscribe
to the website today?