This review is taken from PN Review 266, Volume 48 Number 6, July - August 2022.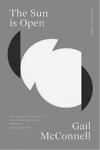 Joelle Taylor, C+nto: & Othered Poems (The Westbourne Press) £10.99; Gail McConnell, The Sun is Open (Penned in the Margins) £9.99
As the epigraph of Joelle Taylor's T.S. Eliot Prize-winning book points out, cuntare means, in Latin, 'to sing' or recount a story. The '+', if pronounced and, turns the title from a censored word to a canto, a poetic term ultimately tied to Dante's journey of self-discovery, also from the same Latin root of song. This plus, too, simultaneously reminds the reader of the multiplicity of sexual identity that open-endedly punctuates the acronym LGBTQ+. Before we reach the first page of C+nto, then, the directions this book will take us in are clear: a pilgrimage of sex, song, and the growth of a personal identity.

Taylor is interested in how cultures and groups change and adapt, particularly how older generations of queer pariahs find themselves interacting with newer generations who, perhaps, take their freedoms for granted: 'we display our dead our old / ways our bedroom bunkers // the presence of absence'. There are lacunae in the fabric of contemporary queer spaces, and Taylor's project is to sound the depths and plumb 'the archaeology of the dancefloor'. Lived queerness is fashioned out of rejection: 'you cut your first suit out of the thick silence when you enter a room,' this excellent metaphor summarising both how much clothing matters in a very literal sense, but also in the sense of how signifiers and cultural codes can both help and hinder the queer experience (butchness, in this particular case): 'the descent of (out)laws…they fear you.' Lesbians are 'sterile and barren an un-useful female empty as church pews'; the body is a 'political placard', as ...
The page you have requested is restricted to subscribers only. Please enter your username and password and click on 'Continue'.
If you have forgotten your username and password, please enter the email address you used when you joined. Your login details will then be emailed to the address specified.
If you are not a subscriber and would like to enjoy the
272
issues containing over
11,000
poems, articles, reports, interviews and reviews, why not
subscribe
to the website today?