This review is taken from PN Review 266, Volume 48 Number 6, July - August 2022.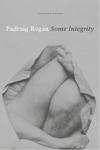 Some Integrity, Padraig Regan (Carcanet) £11.99;
This Fruiting Body, Caleb Parkin (Nine Arches) £9.99
'To see this & see it clearly'. So closes 'On the Principles of Alchemy': a prose poem from Padraig Regan's first collection, Some Integrity. This seeing happens in plural infinitives: 'To see one's life unspool in colour', 'To see a wall of ice […] To see it melt', 'To see your father grow until he swallows God. To see him / shrink until he is a fog'. Perception transmutates; ecological, familial and spiritual traumas dissolve into a moisturised soup of confusions. To see the body as more than it seems is lyric's production, as is also the case in Caleb Parkin's recent debut This Fruiting Body. Both collections offer a queer, post-internet ecopoetics that is sensuous, alchemical and strange: shifting between realms of mycelia, pixelated seas and more-than-human coexistence.

Integrity is the state of being whole and undivided, but these books teem with shifting signifiers, multisensory detail, incoherence and corporeal traces. An artist's model is 'a text / I must translate / from one language / I can only / half read' (Some Integrity). Rather than reduce the bodies found in our orbit to coherent others, Regan and Parkin self-reflexively show up what aspects of 'Nature' and self are lost and gained in the process of writing. For Regan, this is aligned with a logic of sketching and still life: a series of dazzling, ekphrastic poems show us the descriptive 'lacquer' which hides 'a story behind' it. Such poetry offers a paralanguage for assembling ecology's im/possible household while simultaneously realising 'Everything was something, / once': in that gap between once and something is melancholia's ...
The page you have requested is restricted to subscribers only. Please enter your username and password and click on 'Continue'.
If you have forgotten your username and password, please enter the email address you used when you joined. Your login details will then be emailed to the address specified.
If you are not a subscriber and would like to enjoy the
272
issues containing over
11,000
poems, articles, reports, interviews and reviews, why not
subscribe
to the website today?