This review is taken from PN Review 266, Volume 48 Number 6, July - August 2022.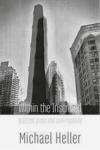 Michael Heller, Within the Inscribed (Shearsman) £14.95
Xavier Kalck's Foreword to Michael Heller's new collection of prose is a model of clarity. He points out to us that these essays revolve around a search for the 'sacred', and that term is to be found at the core of the whole collection: 'Heller is interested in the sacred as a sense of striving for that renewed intelligibility, which does not belong to any single doctrine, which is why he always evokes the idea of the sacred through a complex prism of perspectives, some complementary, some at odds with one another.' In addition, Kalck refers to Heller's 'dialectics of concealment and revelation', suggesting that the fullness of language invariably reminds us of the void it conceals, a notion close to the heart of Samuel Beckett whose famous words to Georges Duthuit had concerned the literary artist's 'obligation to express' as an urgency of need.

Throughout this book Heller's preoccupation with language reveals the poet's struggle 'to produce an articulation of that which was previously inarticulate'. The poet's hope is for momentary revelations, those rents in the surface of the world through which one might glimpse the infinite, and it is woven into an ongoing discussion concerning the reflective nature of the sacred. In conversation with his friend, the poet Norman Finkelstein, Heller debates the void which is left if what we see is not illuminated by any ray of meaning or direction, and it is Finkelstein who replies by pointing out that it is poetry which 'rescues history from mere facticity'.

In 'Dantean Reznikoff', a review of ...
The page you have requested is restricted to subscribers only. Please enter your username and password and click on 'Continue'.
If you have forgotten your username and password, please enter the email address you used when you joined. Your login details will then be emailed to the address specified.
If you are not a subscriber and would like to enjoy the
272
issues containing over
11,000
poems, articles, reports, interviews and reviews, why not
subscribe
to the website today?