This review is taken from PN Review 266, Volume 48 Number 6, July - August 2022.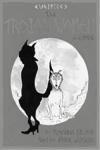 Rosanna Bruno, Euripides: The Trojan Women: A comic, text by Anne Carson (Bloodaxe) £10.99
Rosanna Bruno and Anne Carson's collaboration on The Trojan Women reimagines Euripides' classical tragedy from 415 B.C. in comic book format. Produced during the Peloponnesian War, the original play has been read as an anti-war commentary. Like the original, Bruno and Carson's comic opens with the gods Poseidon and Athene discussing how to punish the Greeks for their disrespect. In Carson's translation, however, Poseidon is not humanised but appears as a 'large volume of water'. Stranger still, Athene is 'a big pair of overalls, carrying an owl mask'. Troy is represented as a ransacked hotel. Hekabe is a sled dog, Helen alternately a fox and a hand-mirror (she changes forms), Andromache a poplar tree, and Menelaos, most remarkably, is 'some sort of gearbox, clutch or coupling mechanism, once sleek, not this year's model'.

Carson's translation, to which Bruno provided images, is as out there as this brief outline of the character-forms suggests. We are given the sense that not only has the language been translated, the form and genre transposed from one visual format to another, theatre to comic book – but that, additionally, the represented figures have been scrambled or randomised. Primarily what this does is make the reading experience a slightly surreal one, but it also on some level adds to the pathos of the story, which follows Hekabe, Kassandra and Andromache in the aftermath of the Trojan war, in which all the men of Troy have been killed, including each of their loved ones. In a stark but also dream-like logic of representation, the characters feel once ...
The page you have requested is restricted to subscribers only. Please enter your username and password and click on 'Continue'.
If you have forgotten your username and password, please enter the email address you used when you joined. Your login details will then be emailed to the address specified.
If you are not a subscriber and would like to enjoy the
272
issues containing over
11,000
poems, articles, reports, interviews and reviews, why not
subscribe
to the website today?