This review is taken from PN Review 266, Volume 48 Number 6, July - August 2022.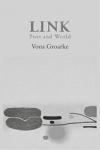 Vona Groarke, Link: Poet and World (Gallery Press) £12.50
In a moment of ontological despair, while walking along cliffs near Duino Castle, Rilke heard a voice say, 'Who, if I cried out, would hear me among the angels' hierarchies?' I have heard my own version of that voice while writing a poem, minus the religious fervor. It's the voice that asks, 'Who will 'hear' this poem?' or even, 'Who will care?' (The 'who' is a figure of speech, as in 'probably five people will read this poem'; but it's also a literal 'who', as in 'who specifically will pass judgment?'). It is the voice of lyric doubt.

If I've placed a banana peel under Rilke's impassioned lines to make a crude point, it's because I want to make a second crude point. When I upend the hyper-lyricism of Rilke's earnest and spiritual cry for help, I also upend the so-called sincerity of Rilke's poem.

These two ideas – lyric doubt and sincerity – are central to Vona Groarke's eighth poetry collection. Link: Poet and World examines the relationship between the lyric I and the Other, using a celestial body called 'World' (in contrast to Rilke's unspeaking angels) as mediator.

World lodges himself in the poet's house during the lockdown. He is paternal, mischievous and old-school – a cross between a tough Film Noir protagonist (he addresses the poet with the affectionate pet name 'Irish') and a toff who dons a claret-coloured smoking jacket and perfectly pleated trousers. He has a touch of the gangster too: his garish ring has a red stone that draws blood. That World comes across as a fantasy composite of twentieth-century stock male screen ...
The page you have requested is restricted to subscribers only. Please enter your username and password and click on 'Continue'.
If you have forgotten your username and password, please enter the email address you used when you joined. Your login details will then be emailed to the address specified.
If you are not a subscriber and would like to enjoy the
272
issues containing over
11,000
poems, articles, reports, interviews and reviews, why not
subscribe
to the website today?