This review is taken from PN Review 266, Volume 48 Number 6, July - August 2022.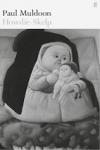 Paul Muldoon, Howdie-Skelp (Faber) £14.99
Paul Muldoon's fourteenth full collection of poems,
Howdie-Skelp
, is preoccupied with junk. From the opener, 'Wagtail', where PVC roofs 'scintillate no less persuasively' than Lough Erne, to the final crown of sonnets, 'Plaguey Hill', which begins and ends with the poet's recycling bins, man-made rubbish is strewn everywhere. Though he's always been able to make magic out of insignificance, to make anything seem meaningfully connected to anything else through some nigh-impossible rhyme, there are signs in this collection that there might be too much detritus lying around now for even Muldoon to make sense of.
This worry is most fully articulated in 'The Pangolin, or Vasty'. Here Muldoon toggles between the story of bees found in a woman's eye, a gang's attempt to smuggle 'fourteen metric tons of pangolin scales' and the 'nine hundred thousand pieces of wreckage now in orbit'. The different scales, and the typically Muldonian pun on scale, create a compound image of spinning junk; the poet's efforts to make things cohere meet their match in the trash circling the earth. It's a beautiful and complex poem, puncturing the pretences of the poet as activist:
The idea that artistic froideur is the norm
is one that simply won't wash
so we'll be there when the battalions form,
standing against the King
in his pangolin-scale armor even as we make the welkin ring.
The bathos here is glorious; the classic Muldoon way of letting clichés collapse under the weight of extra meaning works especially well. To make the welkin ...
The page you have requested is restricted to subscribers only. Please enter your username and password and click on 'Continue'.
If you have forgotten your username and password, please enter the email address you used when you joined. Your login details will then be emailed to the address specified.
If you are not a subscriber and would like to enjoy the
272
issues containing over
11,000
poems, articles, reports, interviews and reviews, why not
subscribe
to the website today?