Readers are asked to send a note of any misprints or mistakes that they spot in this item to
editor@pnreview.co.uk
This item is taken from PN Review 266, Volume 48 Number 6, July - August 2022.
Pictures from a Library
Dark Matters & Kinds of Geometry: Rebecca Elson in the Art of Mary Griffiths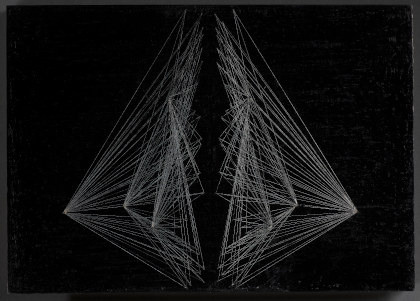 The mighty archive of
PN Review
and Carcanet Press contains thousands of emails, letters and replies in its correspondence files. They bear witness to Michael Schmidt's belief that an 'epistolary habit is hard to shake, even when email comes along. Indeed, email can make the habit an addiction'.
At the nerve centre of the Press's activities, correspondence transforms words into books, facilitates commerce, transmits information and fosters the interchange of thoughts, ideas and friendship across poetry's cosmos. Despite the separation in time and space of those participating within its exchanges, explorers of its contents encounter an almost 'telepathic sense' of its epistolary participants and 'an intense, quasi-spiritual' emanation of their presence' (Esther Milne).
Yet, 'presence' is not only defined as a 'state of being with or in the same place as a person'. It can also denote a person or thing not seen but 'felt or perceived to be present' (
OED
). And, like dark matter, we can sometimes detect its existence 'in the way it makes things move… for all the invisible things in the world… leave their traces' as the celebrated Carcanet poet and distinguished astronomer Rebecca Elson has observed.
Dark matter is what the artist Mary Griffiths found when she set about creating a work of art in response to Carcanet's email archive, as part of the Rylands PALLADIUM Project. Having previously developed an affinity with Rebecca Elson's work, Griffiths sought her out as a source of inspiration. But Elson's untimely death precluded the exchange of any correspondence (electronic or otherwise) between herself and the Press. So, Griffiths, like an astronomer using indirect methods to investigate dark or missing matter, extended her search for evidence of Rebecca Elson to the fifty-two emails exchanged between the various parties collecting her poems for their posthumous publication as
A Responsibility to Awe
.
First, Griffiths counted all the words that were used in all of the emails. These amounted to 10,000. Then she made a tally of the 130 references to Elson, including the use of her name and pronouns ('Elson', 'Rebecca', 'Becky', 'she' and 'her'). Through a complex process of translation, transformation and abstraction the words of the emails were then turned into figures then into data, then to graphs and ultimately into a visual image, scored into graphite on board. Finally, creating what Elson might have recognised as a 'contemporary cosmology' where a 'kind of geometry… which has collapsed into points of mass which throw off light, much as abstractions collapse into words' (Elson) or images, as in the case here. And in the 'black starlight' at the centre of its beating heart, gravity pulls, and we discern the presence of Rebecca Elson, darkly.
'For this we go out dark nights' by Mary Griffiths, graphite on gesso board, 2022.
(© Mary Griffiths, digital image supplied by the University of Manchester)
To see the wall drawing based on this work visit Rogue Studios in Openshaw, Manchester. Opening times: 2–4pm Saturdays until 3 September 2020.
This item is taken from PN Review 266, Volume 48 Number 6, July - August 2022.