This review is taken from PN Review 265, Volume 48 Number 5, May - June 2022.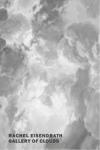 The Foggy, Foggy Dew
Gallery of Clouds, Rachel Eisendrath (NYRB) £17.99
A slender, elegant volume inspired by a capacious, rambling prose epic, Gallery of Clouds is a work written in response to Sir Philip Sidney's Arcadia. Sidney's complicated and episodic work, one that uses its ancient mythical pastoral setting to meditate on the nuanced, overlapping and conflicting relationship between the active and passive life, was extensively revised and exists in three versions. There is the Old Arcadia, the most easily readable of the three, discovered in the early twentieth century – although it was known to have existed long before then. After Sidney's early death in 1586 at the age of thirty-one, two rival editions appeared based on his extensive revisions to his original text. His friend, Fulke Greville (1554–1628), oversaw the publication of the New Arcadia in 1590, the revised work with its extra sections and plots concluding in mid-sentence. A composite version, which inserts some of the 'Old' into the 'New', as well as adding other sections so that the romance makes sense, was published by Philip's devoted and brilliant sister, Mary Sidney Herbert (1561–1621) three years later. Confusingly, both are called The Countess of Pembroke's Arcadia, although the first is an incomplete, pirated edition.

The plot of the later versions involves the withdrawal of king Basilius into a pastoral retreat after he hears a prophecy that he will lose his family and his state to hostile forces. Pyrocles and Musidorus, two impressively noble princes, fall in love with the king's daughters, Pamela and Philoclea, disguising themselves to press their suits. Politics and romance are ...
The page you have requested is restricted to subscribers only. Please enter your username and password and click on 'Continue'.
If you have forgotten your username and password, please enter the email address you used when you joined. Your login details will then be emailed to the address specified.
If you are not a subscriber and would like to enjoy the
271
issues containing over
11,000
poems, articles, reports, interviews and reviews, why not
subscribe
to the website today?