This review is taken from PN Review 265, Volume 48 Number 5, May - June 2022.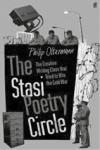 What Price An Inner Life
The Stasi Poetry Circle, Philip Oltermann (Faber) £14.99
In an environment where the presence of an inner, secret life of any kind was anathema to the probing eyes of the state, poetry would seem to be at best a low priority. But in Soviet-controlled East Germany after the Second World War, Philip Olterman's new book reveals, there was a concerted effort by the Stasi intelligence service to use metre, meaning and metaphor for their own ends. Olterman lays out how unlikely this pairing feels early on:
What an absurd meeting of mindsets, I had thought at the time: one of the most brutal spy agencies in history on the one hand, the refined craft of lyrical verse on the other. A secret police synonymous with the suppression of free through, and an art form through which men and women had for millennia expressed their innermost feelings and desires. What had attracted one to the other?
The collaboration is more intuitive than it seems. Governments, particularly totalitarian ones, have always had an intense interest in the arts, and in how it can be used or erased to produce a loyal populace with the 'right' kinds of thoughts. Step outside the lines of acceptable art, and the punishments could be brutal: witness Akhmatova's executed husband, Shostakovich's years in exile when the Stalinist state disapproved of
Lady Macbeth of Mtsensk,
or Bulgakov keeping
The Master and Margarita
in a drawer for decades for fear of the gulags. For the East German state, art was a tool like anything else, and the Stasi initially saw their mission clearly: educate ...
The page you have requested is restricted to subscribers only. Please enter your username and password and click on 'Continue'.
If you have forgotten your username and password, please enter the email address you used when you joined. Your login details will then be emailed to the address specified.
If you are not a subscriber and would like to enjoy the
271
issues containing over
11,000
poems, articles, reports, interviews and reviews, why not
subscribe
to the website today?