This review is taken from PN Review 265, Volume 48 Number 5, May - June 2022.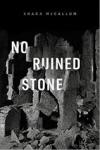 The Fabric They Call Truth
Shara McCallum, No Ruined Stone (Peepal Tree Press) £9.99
In No Ruined Stone, the product of many years' research both in Edinburgh and Jamaica, Shara McCallum has created a counterfactual narrative in which Robert Burns leaves Scotland for Jamaica in the summer of 1786. He spends ten years on the island, during which time he has a relationship with an enslaved woman called Nancy. Their child, Agnes, is born two years after his arrival and, when seventeen years old, is raped by Charles Douglas, the owner of the plantation. She dies giving birth to a daughter Isabella, the granddaughter of Robert Burns, who in the second part of the book travels to Scotland in the footsteps of her dead grandfather. In No Ruined Stone McCallum creates a multi-layered world in which enslaved people and their descendants are given a voice which combats the erasures of time and cultural normative practices. The collection asks questions such as who gets to write their story, whose voice is heard, and can be viewed as a study on the inheritance of words.

Part One focuses on Burns's impressions of life at 'Springbank', the plantation on Jamaica, his letters home to his brother Gilbert, conversations with Charles Douglas, his abolitionist sensibilities and his ultimate impotence to challenge the machinery of slavery. Burns the Romantic poet rejects the inhumanity of slavery while at the same time appropriating the language of suffering of the enslaved: 'misery clings to the hem of my clothes'; 'there is no keener lash' than the torments he feels. In contrast, Part Two focuses on Isabella, a black woman passing for ...
The page you have requested is restricted to subscribers only. Please enter your username and password and click on 'Continue'.
If you have forgotten your username and password, please enter the email address you used when you joined. Your login details will then be emailed to the address specified.
If you are not a subscriber and would like to enjoy the
280
issues containing over
11,300
poems, articles, reports, interviews and reviews, why not
subscribe
to the website today?