This review is taken from PN Review 265, Volume 48 Number 5, May - June 2022.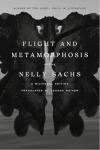 Pre-empted Reading
Nelly Sachs, Flight and Metamorphosis: Poems, translated by Joshua Weiner with Linda B. Parshall (FSG) $30
Nelly Sachs was awarded the Nobel Prize for Literature in 1966, shared with S. Agnon, which led to the publication by FSG in USA, followed by Jonathan Cape in the UK, of two volumes of translations of most of her poetry, including a verse play: O The Chimneys (1967) and The Seeker (1970). Five translators were involved, including Michael Hamburger, and Ruth and Matthew Mead. Some of Sachs's discrete books were, somewhat confusingly, spread across the two volumes. There have been a couple of reordered part reissues since, but Joshua Weiner's is the first new substantial translation of a discrete book.

Nelly Sachs's poetry is so dear to me. During a trip to Stockholm in a pre-digital photography age I visited the reconstruction of her tiny apartment, exactly as she had left it, in the basement of The Royal Library. 'May I take photos?' I asked apprehensively. 'Yes', was a surprise, and I began clicking away. An hour later I discovered that I had had no film in the camera. I think that was what I deserved. My request, I felt, had been an intrusion and the gods had said 'No'. But I did manage to get a poem of my own out of the experience.

What to make of Weiner's translations? One might say that many are faultless. Then again one might say that there are some unjustifiable, impermissible even, decisions. For example, there is not one comma in the whole of Sachs's original Flucht und Verwandlung. Weiner does not use them often but often enough for them to be noticeable. In fact, Sachs rarely uses commas in ...
The page you have requested is restricted to subscribers only. Please enter your username and password and click on 'Continue'.
If you have forgotten your username and password, please enter the email address you used when you joined. Your login details will then be emailed to the address specified.
If you are not a subscriber and would like to enjoy the
271
issues containing over
11,000
poems, articles, reports, interviews and reviews, why not
subscribe
to the website today?