This review is taken from PN Review 265, Volume 48 Number 5, May - June 2022.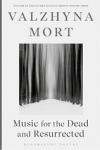 A Bright Shovel of a Face
Valzhyna Mort, Music for the Dead and Resurrected (Bloomsbury Poetry) £9.99
Born in Minsk in 1981, and so living out the first decade of her life in the waning Soviet Union, Valzhyna Mort spent her time after school in the family kitchen listening to her grandmother's stories of war and political persecution, a litany of loss and trauma that were not reflected in the poet's school history or literature classes. As Mort described in an interview with NPR's Morning Edition, growing up in Belarus – a place where by the late 1930s 80 percent of the region's writers and artists had been killed by the Soviet regime – 'the stories of my family, of my dead had no place in official historical narratives'. Instead it was left to the 'test-child exposed to the burning reactor' of her grandmother's memory to reckon with and to write this lost narrative; to find a way of handling, composing, and bringing into the world such incendiary material.

Mort's second English-language collection, Music for the Dead and Resurrected, was received into a world freshly attuned to the political and personal repression experienced by the contemporary citizens of Belarus. In the wake of August 2020's post-electoral protests, the collection has been read and reviewed largely from a socio-historic perspective. Largely and justifiably, as Mort herself has discussed the poems in Music for the Dead (and her previous collection, Collected Body) in terms of a response to the lacuna in both official history and culture of the lived experiences of Belarusian people. While the world was riveted by news coverage of mass demonstrations and arrests, Mort's poems seemed extraordinarily ...
The page you have requested is restricted to subscribers only. Please enter your username and password and click on 'Continue'.
If you have forgotten your username and password, please enter the email address you used when you joined. Your login details will then be emailed to the address specified.
If you are not a subscriber and would like to enjoy the
271
issues containing over
11,000
poems, articles, reports, interviews and reviews, why not
subscribe
to the website today?