This review is taken from PN Review 263, Volume 48 Number 3, January - February 2022.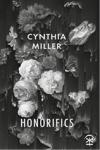 'I'm already there'
Honorifics, Cynthia Miller (Nine Arches Press) £9.99
Cynthia Miller's debut, Honorifics, has won an Eric Gregory award and been shortlisted for the Forward Prize for Best First Collection. The book moves us between time and place, from Malaysia to America to the UK, searching for a form or language to hold a specific kind of longing: for another self, another country, what might have been. It would be unfair to ask women and people of colour to provide universal delight; as a woman of colour, Miller's longing is one specific to the experience of migration and of heritage with gendered burdens. The title of the collection is a paean to this, deriving from the poem 'Glitch Honorifics' where 'coming back to / Malaysia feels like stepping into another / self that exists in parallel', where 'when I travel back home, / I'm already there'. Miller urges us to scrutinise the past, reminding us that it is impossible to know what to 'want more: certainty,/ or to finally set down this longing' for something that has always had no name.

Much delight from Miller's examination of forms of longing can be found throughout the collection. Particularly gorgeous coinages are scattered in the first third: a Cantonese song melts like a 'Cantopopsicle'; hunger 'telescopes' and fills strange distances; jellyfish 'moonmoons' swarm. In 'Social Distancing', touching is reinvented as 'transmutation' where 'you could touch anything you wanted and watch it change…A bench / became a hammerhead shark', which reminds us that all touch has always had a 'cost'. Later, 'Sonnet with Lighthouses', imagines the absurdity in the longing of a 'the ninth lighthouse' ...
The page you have requested is restricted to subscribers only. Please enter your username and password and click on 'Continue'.
If you have forgotten your username and password, please enter the email address you used when you joined. Your login details will then be emailed to the address specified.
If you are not a subscriber and would like to enjoy the
271
issues containing over
11,000
poems, articles, reports, interviews and reviews, why not
subscribe
to the website today?