This review is taken from PN Review 263, Volume 48 Number 3, January - February 2022.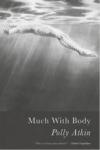 Confidence
Much with Body, Polly Atkin (Seren) £9.99
Confidence is my first impression of Polly Atkin's Much with Body, which is perhaps to be expected from the author of a second collection and 'several pamphlets'. There's a confidence in placing Full Wolf Moon first in the collection – a poem with a limited, repetitive yet highly effective vocabulary. And there's confidence in stepping directly from this to 'Hunting the Stag', with its uneven line and verse lengths. This poem initially appears to have been thrown on the page by an amateur but unfolds with great tonal surety. Her phrasing rings true on the ear whilst simultaneously opening up ­phrases to a wider interpretation, such as 'You know what you become when you're like this. Too much. Too much.'

Confidence in form is seen in Dorothy's Rain, a three-page poem in which practically every other word is rain, and the spacing echoes the pattern of rain drops. With such devices immediately obvious to the eye, I steeled myself not to skip, but to read every word and to go along with Atkin on this experiment. And the poem did deliver, even more on the ear than the eye, a mesmeric torrent, an interrogation of language and a beautiful evocation of the human experience of place. Even the unpromising blocky stanzas of The Long Dance seem to open and flex as the poem progresses, whilst still holding their shape. Likewise, the incantatory poem Queen of the Woods uses line spacing to continually soften and extend the line into a hypnotic flow. Atkin is a master of enjambment, making the most ...
The page you have requested is restricted to subscribers only. Please enter your username and password and click on 'Continue'.
If you have forgotten your username and password, please enter the email address you used when you joined. Your login details will then be emailed to the address specified.
If you are not a subscriber and would like to enjoy the
271
issues containing over
11,000
poems, articles, reports, interviews and reviews, why not
subscribe
to the website today?