This review is taken from PN Review 262, Volume 48 Number 2, November - December 2021.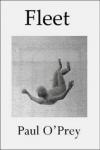 Pandemix

Michèle Roberts, Quarantine (Melos Press) £5
Paul O'Prey, Fleet (Melos Press) £5
Kat Payne Ware, The Live Album (Broken Sleep) £6.50
Briony Collins, Blame it on Me (Broken Sleep) £6.50
Several editors have grumbled to me over the past year and a half about the proliferation of Covid poems. A million poets, it seemed, sat to write about the first lockdown as it happened, and Michèle Roberts was one of them. Back then, and though I expected them to try, I wondered whether poets would have much to say: pandemics, especially when they seem to have a fairly comparable likelihood of affecting anyone, rarely prove fertile ground for poetry. Spanish flu probably killed more people than the Great War that preceded it; find me an anthology of Spanish flu poems.
Roberts succeeds through a blend of subjectivity and objectivity, as well as brevity and precision – or rather through idiosyncrasy coupled with a knack of memorably giving voice to things so many of us shared. She almost makes me nostalgic. Against a backdrop of restrictions – 'government ads / barking Stay at Home', leaning 'on my area of railings' – we are presented with the small world effect of lockdown, the sudden and otherwise glorious British spring of 2020 during which 'the clematis hurtles / – a blooming miracle – / out of the rosebush' and petals 'open like hands / defenceless, generous', the street that 'empty of traffic / turns inside out / becomes our meeting-room', the lucid dreams so many people have reported. The following incongruous lines surprised me rather until I realised they belonged in that context:
Already I've watched my dentist
– rugby player in cool blue scrubs –
hurl himself face down
on his spreadeagled naked ...
The page you have requested is restricted to subscribers only. Please enter your username and password and click on 'Continue'.
If you have forgotten your username and password, please enter the email address you used when you joined. Your login details will then be emailed to the address specified.
If you are not a subscriber and would like to enjoy the
272
issues containing over
11,000
poems, articles, reports, interviews and reviews, why not
subscribe
to the website today?