This review is taken from PN Review 262, Volume 48 Number 2, November - December 2021.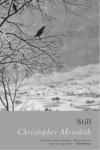 Double Dose

Christopher Meredith, Still ; Please (Seren) both £9.99
Christopher Meredith has long enjoyed a high reputation as poet and writer of prose fiction. This is still a remarkable event: the joint publication of a novella and a new collection of poems.

The contents of Still, gathered over several years, are presented in four sections, the last, the only one bearing its own title, 'Still air', being the poet's share of a joint publication with artist and print-maker Sara Philpott in 2016.

Meredith is Welsh speaking. In the glossary of places mentioned in the collection, the site of a former slate quarry near Blaenau Ffestiniog, its yawning depths now lake-filled, evokes a response in the old language, 'Dail poethion, Cwmorthin'. Although there are inevitable similarities, since the same scene, tall nettles growing by the ruins of the former manager's house, is the subject of both, the accompanying English poem, 'Nettles, Cwmorthin' is not a translation. The demands of language and prosody in Welsh are different from those customary in English. Imagery is common to both, but the tradition of layering images, dyfalu, is typically Welsh. Hopkins' poetry shows its influence, and it is present in Meredith's 'Winter Woods', for example: where snowflakes, 'ice crystals finialled like/ the ideograms of stars ... pattern the gravid void like/ free fallers clasping hands ... to feather, copter,/ this gathering/ of crystal feathers,/ rock and float, slide, sideslip,/ tumble, float again/ ride down the zigzag/ seesaws of the half-sustaining air ... they fall/ until at last they settle their wafer/ on the tongue of earth.' Another striking example ...
The page you have requested is restricted to subscribers only. Please enter your username and password and click on 'Continue'.
If you have forgotten your username and password, please enter the email address you used when you joined. Your login details will then be emailed to the address specified.
If you are not a subscriber and would like to enjoy the
272
issues containing over
11,000
poems, articles, reports, interviews and reviews, why not
subscribe
to the website today?