This review is taken from PN Review 262, Volume 48 Number 2, November - December 2021.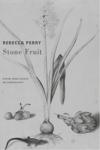 Consciously Awkward

Rebecca Perry, Stone Fruit (Bloodaxe) £10.99
Where Beauty/Beauty, Perry's previous collection conjured Sasquatch, Stegosaurus and a million silver spiders for company, Stone Fruit occupies the psychic territory of in-betweenness and memory. In the first of its three sections, 'beaches', a sequence of fourteen poems emerges from the shoreline as their narrator wanders the beach with sympathetic curiosity, stuck in the interstitial space between a closed-off past and an uncertain future. It's a place thick with questions about the natural world, frequently projecting back onto the human body observing it: 'will the crab come back out of the same hole / when the sea retreats // is it a man or a body'. Convictions too, if they are asserted, are soon overturned or pushed to absurdity: 'there are things / you can say absolutely / a man should not be able to bear the weight / of a refuse truck on his chest, begins 'beaches (8)'

With the exception of 'beaches (1)', this sequence is written in lower case and without punctuation. The impression is of a tidal song, a meditation on the sea and sea changes in the speaker's life, each poem washing up flotsam of hearsay, scraps of memory, half-formed questions. Though an effective technique to heighten the poem's sense of immediacy, of things being worked out, unobstructed, on the page, it's hard to sustain over thirteen poems. By 'beaches (5)' I found myself longing for breath, emphasis, a gear-shift, just a solitary full stop. The risk in making everything uniformly fluid is that pretty soon, nothing is – what initially feels free and impressionistic begins to sound one-note. 'beaches ...
The page you have requested is restricted to subscribers only. Please enter your username and password and click on 'Continue'.
If you have forgotten your username and password, please enter the email address you used when you joined. Your login details will then be emailed to the address specified.
If you are not a subscriber and would like to enjoy the
272
issues containing over
11,000
poems, articles, reports, interviews and reviews, why not
subscribe
to the website today?