This review is taken from PN Review 262, Volume 48 Number 2, November - December 2021.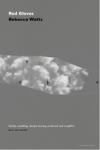 Wild Homesickness

Romalyn Ante, Antiemetic for Homesickness (Chatto) £10
Rebecca Watts, Red Gloves (Carcanet) £9.99
Antiemetic for Homesickness (Chatto, 2020) and Red Gloves (Carcanet, 2020) gain a topical urgency in our age of pandemic and climate breakdown. Romalyn Ante's book was published during full lockdown, a debut that commands attention by evoking the NHS front line. Its author 'works as a registered nurse and psychotherapist,' the back cover tells us, and Ante's poems provide a fascinating window into the lives of diaspora nurses.

Ante combines medical terminology with images of fruit, blossoms and bodies, creating characteristically original metaphors: 'amongst the haematoma of flowers'. From the first poem, specialist terms such as 'anti-emetic' and 'prophylaxis' rub shoulders with the kamote (sweet potato) and kangkong (water spinach) of Filipino gardens and cuisine. 'Names,' which won Poetry London's Clore Prize, has a shifting poetic form to mirror the travels of a family scattered between the Philippines, Britain and Oman: 'Riverside. Manila. London. Kurba'. Survival, endurance and healing are crucial foci – 'And the strongest part of me/ is the scar I hide underneath my fringe'. Ante joins Ocean Vuong in echoing Frank O'Hara, but her influences are global. References to Yi Yang-Yong appear alongside Filipino songs, gunita script, and nods to Neruda.

The book is steeped in 'The sanctity of blood', a turn of phrase encapsulating family relations, the healing arts, and the blood of suffering. We are introduced to a grandfather who was a shaman, to the vibrant traditions of the dance festival, and the fabled nunὸ. A mother who has to leave her children to fly abroad is visualised as the manananggal, a woman who ...
The page you have requested is restricted to subscribers only. Please enter your username and password and click on 'Continue'.
If you have forgotten your username and password, please enter the email address you used when you joined. Your login details will then be emailed to the address specified.
If you are not a subscriber and would like to enjoy the
271
issues containing over
11,000
poems, articles, reports, interviews and reviews, why not
subscribe
to the website today?