This review is taken from PN Review 262, Volume 48 Number 2, November - December 2021.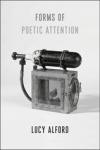 Taxonomy

Lucy Alford, Forms of Poetic Attention (Columbia University Press), £54 (hb), £25 pb
Forms of Poetic Attention is a very ambitious book. It might best be described as an Aristotelian attempt to tabulate the forms of poetic attention as these are exhibited in the poem. It derives from a study of attention in ethics and the question: where can we practice disinterested intention? Is there a body of literature 'giving voice to attention'? The result is not only a study of attention in poetics but a series of philosophically-informed close readings, structured in illustration of those forms.

To begin with Alford's framework: her study is in two parts, dealing respectively with Transitive and Intransitive Attention. The former is considered under what Alford calls its Dynamic Coordinates: Interest (desire, for example, contrasted with a more disinterested attention), Intentionality (deliberate attending or attention caught), Selectivity, Temporal Remove and Apprehension (or 'capture': does the object come to life?). Within Selectivity, the poem may show greater or lesser degrees of Concentration (Dickinson compared to Charles Wright), Resolution (zooming in or out) and Integrity (the object of attention may be entire or divided). We are then invited into the Modes of Transitive Attention: Contemplation, Desire, Recollection, and Imagination. This is a meal in itself. It will immediately strike the reader that these are large categories; the extent of the book is required for Alford to do justice to the intermingling and recoupements of these coordinates and modes; their initial statement inevitably has some of the qualities of certain Aristotelian dicta midway between the self-evident and the revelatory such as 'By 'whole' I mean 'with a beginning, ...
The page you have requested is restricted to subscribers only. Please enter your username and password and click on 'Continue'.
If you have forgotten your username and password, please enter the email address you used when you joined. Your login details will then be emailed to the address specified.
If you are not a subscriber and would like to enjoy the
271
issues containing over
11,000
poems, articles, reports, interviews and reviews, why not
subscribe
to the website today?