This review is taken from PN Review 262, Volume 48 Number 2, November - December 2021.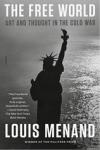 Then is Now

Louis Menand, The Free World: Art and Thought in the Cold War (Farrar Straus and Giroux) £23.10
James Russell Lowell sounded a note of caution when he wrote in 1867, 'our culture is, as for a long time it must be, European; for we shall be little better than apes and parrots till we are forced to measure our muscle with the trained and practised champions of that elder civilization'. He could hardly have guessed just how much muscle the USA would be able to flex in Europe within a century, militarily, economically and artistically.

World War 11 brought isolationist America back to world affairs for the second time in forty years, ending the Depression. Peace, however, meant only a new front, the Cold War, which was to hamper the nation's psyche. This was the time, as Jill Lepore argued in These Truths (2018), 'when the United States built a national security state' because of its fear of Communism, and thus 'a peace dividend expected after the Allied victory in 1945 never came'. What came instead were cagey, proxy confrontations and years of aggressive rhetoric. It was a time of seriousness of purpose, but of devastating ill-judgement abroad (the Cold War, Vietnam) and at home (McCarthyism, institutional sexism, racism and homophobia). Beneath the conservatism of the period, cultural historians like Morris Dickstein (Leopards in the Temple, 2002), detected an energy radically at odds with conformism, initially manifest in literature and film, which would be given dramatic expression in the 1960s.

It is this postwar period that Louis Menand has chosen to document in The Free World: Art and Thought in ...
The page you have requested is restricted to subscribers only. Please enter your username and password and click on 'Continue'.
If you have forgotten your username and password, please enter the email address you used when you joined. Your login details will then be emailed to the address specified.
If you are not a subscriber and would like to enjoy the
272
issues containing over
11,000
poems, articles, reports, interviews and reviews, why not
subscribe
to the website today?