This review is taken from PN Review 262, Volume 48 Number 2, November - December 2021.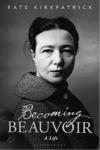 Questions from the Edge

Kate Kirkpatrick, Becoming Beauvoir: A Life (Bloomsbury Academic) £20; Peter Salmon, An Event, Perhaps: A Biography of Jacques Derrida (Verso) £16.99
The subjects of these informed and lucid biographies, Simone de Beauvoir and Jacques Derrida, can serve to represent two key moments in twentieth-century French intellectual life – existentialism and deconstruction – which had an impact far beyond France but which can now seem, to borrow a phrase from Donald Davie's poem 'Remembering the 'Thirties', 'more remote than Ithaca or Rome', belonging to those foreign countries of the relatively recent past that can appear more distant than those farther back in time. It is not that the ideas developed in those moments have wholly disappeared but rather that, like the ideas of psychoanalysis, they have been domesticated, simplified, popularized and assimilated into quite different contexts. In a sense, we are all existentialists and deconstructionists now.

Both biographies aim to stress above all the philosophical concerns of their subjects, even if they have, for differing reasons, been denied philosophical respectability in some quarters. Derrida and Beauvoir were both steeped in previous philosophy and their ideas emerged out of and against this. As Beauvoir declared in a 1947 article, 'it is indispensable to be familiar with the long tradition on which it rests if one wants to grasp both the foundations and the originality of the new [philosophical] doctrine'. While 'foundations' and 'originality' are suspect terms from a deconstructionist perspective, Salmon contends that Derrida's work 'often appears to assume a thorough working knowledge of most of the history of Western philosophy' as well as much else. Both Beauvoir and Derrida were also steeped in literature and their ...
The page you have requested is restricted to subscribers only. Please enter your username and password and click on 'Continue'.
If you have forgotten your username and password, please enter the email address you used when you joined. Your login details will then be emailed to the address specified.
If you are not a subscriber and would like to enjoy the
271
issues containing over
11,000
poems, articles, reports, interviews and reviews, why not
subscribe
to the website today?