This review is taken from PN Review 261, Volume 48 Number 1, September - October 2021.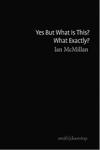 Ian McMillan, Yes But What Is This? What Exactly? (Smith Doorstop) £4.50; Richie McCaffery, First Hare (Mariscat Press) £6.00; Anna Selby, Field Notes (Hazel Press) £10.00; Daniel Fraser, Iron Lung (Ignition Press) £5.00
According to Émile Zola, and in what I think equals any other necessarily watery definition, art is 'life seen through a temperament'. As anyone reading this will know, Ian McMillan's public temperament – usually on full display in his poetry – is warm, wry, mischievous. His style hasn't developed much over the decades, though the same might be said of A. E. Housman, Wendy Cope, Philip Larkin, Tony Harrison, and any number of other poets with huge readerships. Rather, each of his collections contains more or fewer poems one wants to mark and remember. Yes But What Is This? What Exactly? – the answer to which might be 'what you'd expect it to be' – has an unusually high hit rate.

All the world is a stage for McMillan, and most performances contain elements of farce. In 'Seeing a Goal Scored from a Passing Train', 'A bloke who looks like he is made of mud / Boots the ball', 'The keeper flaps like a scarf in the breeze', and 'I stand and whoop and the train's dullards / Stare at me like I'm a cave painting come to life'. In 'The News', a dog on 'one of / Those long leads that stretch / To Doncaster' says 'Who's voting Tory on Thursday? / I know I am!' He can be poignant, though – as in 'Ten Der', a beautiful little poem built around repetitions and focused on a woman cutting flowers to 'The sound of tender / Murmurings / That could be song'; or 'Three Flat Caps at the Bottom of the Stairs', about the mining industry ...
The page you have requested is restricted to subscribers only. Please enter your username and password and click on 'Continue'.
If you have forgotten your username and password, please enter the email address you used when you joined. Your login details will then be emailed to the address specified.
If you are not a subscriber and would like to enjoy the
271
issues containing over
11,000
poems, articles, reports, interviews and reviews, why not
subscribe
to the website today?