This review is taken from PN Review 261, Volume 48 Number 1, September - October 2021.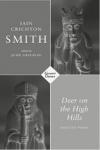 Iain Crichton Smith, Deer on the High Hills: Selected Poems, edited by John Greening (Carcanet £14.99)
Iain Crichton Smith was one of the remarkable Scottish poets of his time and it was a time rich in poets of distinction. (He is figured in Sandy Moffat's iconic group portrait Poets' Pub along with the other Makars of the age that Hugh MacDiarmid brought together.) Smith is only one among them, by the way, who owe the heart of their posterity to Carcanet.

Poets generally cannot choose the language they write in. The Muse makes them monoglots. R.S. Thomas, with whose poetry Smith's has something in common (listen for a particular example to 'Poem of Lewis' which opens this selection), could write prose in Welsh but not a poetry. The Muse blessed Smith with two tongues, Gaelic and English. I am not qualified to say that he was in his poetry (he wrote fiction in Gaelic and English too) equally adept in both languages, but others better placed, including Sorley MacLean, have made it clear that he was. That in itself is startling.

Otherwise in much of his early life and circumstances, Smith was singularly unblessed. Indeed, he was cursed, by breadline poverty and the oppressive character of his mother, widowed when the poet was one year old. She, for her sins, adhered to the deadly Wee Free version of Protestantism. Throughout her life, the poet was extraordinarily caring of this grim soul, at great cost to his sanity, which in the end broke down, for a desperate time, after her death. 'Blessed and Cursed' could almost be the title ...
The page you have requested is restricted to subscribers only. Please enter your username and password and click on 'Continue'.
If you have forgotten your username and password, please enter the email address you used when you joined. Your login details will then be emailed to the address specified.
If you are not a subscriber and would like to enjoy the
271
issues containing over
11,000
poems, articles, reports, interviews and reviews, why not
subscribe
to the website today?