This review is taken from PN Review 261, Volume 48 Number 1, September - October 2021.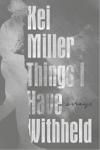 Kei Miller, Things I Have Withheld. Canongate. £14.99
As a poet and fiction writer, the Jamaican-born Kei Miller 'know[s] how to tell stories', but as he muses in his second collection of essays, Things I Have Withheld, 'but how does one begin to tell silence?' Taking his cue from the poet Dionne Brand's line that 'the most important things will be the ones I withheld', Miller pries open the vaults of silence in which things are hidden, among them sexuality, racial identity, desire, and shame. The paradox, as Miller explores across sixteen short chapters, is that 'the moment when I am most in need of words are exactly the moments when I lose faith in them and when I fall back into silence'.

Miller's essays, which are set in various geographical locations – including England, Jamaica and Scotland – underscore his resistance to fixity. The essays transgress the boundaries of the traditional essay. The volume includes two letters to the American writer James Baldwin, and one to the Kenyan writer Binyavanga Wainaina. There are autobiographical snapshots revealing long-standing family secrets; essays which are written in the style of short stories, and travel pieces about Miller's experiences in Kenya and Ethiopia. The essays, some of which are whispered, and all of which are lyrical, are threaded together by Miller's exploration of silence and the heavy weight of what is left unsaid; 'that silence in which so many things should be said are never said'. The book is populated with characters who learn that 'to share one's thoughts can be dangerous', or who strain to catch ...
The page you have requested is restricted to subscribers only. Please enter your username and password and click on 'Continue'.
If you have forgotten your username and password, please enter the email address you used when you joined. Your login details will then be emailed to the address specified.
If you are not a subscriber and would like to enjoy the
271
issues containing over
11,000
poems, articles, reports, interviews and reviews, why not
subscribe
to the website today?