This review is taken from PN Review 261, Volume 48 Number 1, September - October 2021.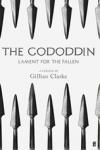 The Gododdin: Lament for the Fallen, a version by Gillian Clarke (Faber) £14.99
At the end of the sixth century, the area in which Welsh was spoken reached as far north as Edinburgh. The names of five early Welsh poets are mentioned in chronicles. No work by Talhaearn Tad Awen ('Father of inspiration'), Blwchfardd nor Cian Guenith Guaut ('Cian, Wheat-Harvest of Song') survives but we do have manuscript copies of poetry by Aneirin and Taliesin. Both wrote in the service of war lords engaged in power struggles with their Celtic rivals and also Saxons pushing up towards Northumbria and west to the Welsh Marches. Both write vividly about the spoils of war and the horror of defeat. Taliesin left twelve short poems, mainly dedicated to his patron Urien Rheged, praising his flourishing kingdom. The only work by Aneirin we have is
Y Gododdin
, a body of roughly a hundred and fifty verses which were preserved in
The Book of Aneirin
, a thirteenth-century manuscript. The poem is in two versions, notated by different scribes. Linguistically, the work is Welsh but is claimed, geographically, as the first Scottish poem, by Robert Crawford in his
Penguin Book of Scottish Poetry
and in Thomas Owen Clancy's
The Triumph Tree: Scotland's Earliest Poetry AD 550–1350
(Canongate, Edinburgh, 1998).
During
Y Gododdin
's passage from an oral performance poem to an early medieval manuscript text, Aneirin and Taliesin were considered contemporaries. In one section of
Y Gododdin
, Aneirin appears to have been taken captive:
I stretch out my knee in my earth house,
an iron chain about my ...
The page you have requested is restricted to subscribers only. Please enter your username and password and click on 'Continue'.
If you have forgotten your username and password, please enter the email address you used when you joined. Your login details will then be emailed to the address specified.
If you are not a subscriber and would like to enjoy the
271
issues containing over
11,000
poems, articles, reports, interviews and reviews, why not
subscribe
to the website today?