Readers are asked to send a note of any misprints or mistakes that they spot in this review to
editor@pnreview.co.uk
This review is taken from PN Review 261, Volume 48 Number 1, September - October 2021.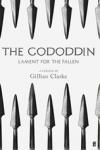 The Gododdin: Lament for the Fallen, a version by Gillian Clarke (Faber) £14.99
At the end of the sixth century, the area in which Welsh was spoken reached as far north as Edinburgh. The names of five early Welsh poets are mentioned in chronicles. No work by Talhaearn Tad Awen ('Father of inspiration'), Blwchfardd nor Cian Guenith Guaut ('Cian, Wheat-Harvest of Song') survives but we do have manuscript copies of poetry by Aneirin and Taliesin. Both wrote in the service of war lords engaged in power struggles with their Celtic rivals and also Saxons pushing up towards Northumbria and west to the Welsh Marches. Both write vividly about the spoils of war and the horror of defeat. Taliesin left twelve short poems, mainly dedicated to his patron Urien Rheged, praising his flourishing kingdom. The only work by Aneirin we have is
Y Gododdin
, a body of roughly a hundred and fifty verses which were preserved in
The Book of Aneirin
, a thirteenth-century manuscript. The poem is in two versions, notated by different scribes. Linguistically, the work is Welsh but is claimed, geographically, as the first Scottish poem, by Robert Crawford in his
Penguin Book of Scottish Poetry
and in Thomas Owen Clancy's
The Triumph Tree: Scotland's Earliest Poetry AD 550–1350
(Canongate, Edinburgh, 1998).
During
Y Gododdin
's passage from an oral performance poem to an early medieval manuscript text, Aneirin and Taliesin were considered contemporaries. In one section of
Y Gododdin
, Aneirin appears to have been taken captive:
I stretch out my knee in my earth house,
an iron chain about my knees.
For mead in the drinking horn,
for the men of Catraeth,
I, yet not I, Aneririn
the wordsmith Taliesin knows it –
sang Y Gododdin
before the new day dawned. (85)
To me, 'I, yet not I, Aneirin' is one of the most intriguing lines in early Welsh poetry, because it suggests that a poet, in their work, is both a self and unknowable. Aneirin describes himself as coming back bloodstained from battle, its only survivor. He's infected by death, in that the soldiers he praises can't hear him. The 'I, yet not I' phrase is even more apposite to Taliesin's corpus, collected together in
Llyvyr Taliesin
, ('The Book of Taliesin'). There the early poet of the Heroic Age is, in poems written by medieval poets and ascribed to him, mythologized into a shamanic shape-shifter. Textually, as well as imaginatively, then, he's a time-traveller. The Taliesin persona becomes a collective voice, an 'I' that is really 'we'. There is enough of an 'I' in Aneirin's work, though, to make the omission of his name on the title page curious.
In her version of Y
Gododdin
, Gillian Clarke joins her voice to her forebearer's; she both 'is' and 'is not' Aneirin; or, following T.S. Eliot, one could equally say that Aneirin is and is not Gillian Clarke. The 'Singer's Prologue', in which Clarke deftly weaves together lines from the A and B texts, sets the tone in her own highly assured and lyrical account of the poem:
Gododdin, I sing your epitaph,
in the hall before the hearth,

here before the gathered throng
where our soldier-poet sang….

When earth covered him, Aneirin,
poetry departed from Gododdin. (3)
Clarke's
Gododdin
looks deceptively like a successor to Alice Oswald's
Memorial
, which was subtitled
An Excavation
. Clarke notes that '
Y Gododdin
is archaeology in the form of song' (viii) but, whereas
Memorial
is a selection of individual elegies lifted out of the epic action of
The Iliad
,
Y Gododdin
is a complete text combining recitative and aria, needing no excision. Both are oral poems before being transcribed and both strike a similar tone of grief for slaughtered young men.
Y Gododdin
is named after the tribe which goes to fight what turns out to be a catastrophic defeat in Catraeth, or Catterick, in around the last decade of the sixth century. In school, we memorized the most famous verse of the cycle, which gives the plot précis:
Gwyr a aeth Gatraeth, oedd ffraeth eu llu,
Glasfedd eu hancwyn a gwenwyn fu,
Trychant trwy beiriant yn catáu,
A gwedi elwch tawelwch fu.
Cyd elwynt lannau i benydu,
Dadl ddiau angau i eu treiddu.
Clarke's keen ear for music allows her to weave rhymes into English that are equivalent but excitingly different from the Welsh pattern, conveying the sound admirably:
Men rode to Catraeth, debonair,
Their snare, the honey-trap, gold mead.

Three hundred men called up to war –
and after joy, the hush of death.

Though they went to church for pardon
just three survived, for their sins.
In the second line of the poem, the mead is usually translated as 'poisonous' to the soldiers. Clarke, a beekeeper herself, chooses to foreground mead as a 'honey-trap'. This leads to gains and losses. In previous sections Clarke has translated 'caeog' – 'torque' – imagined as a 'snare of the enemy' as 'the correct but less effective 'brooch'. She's keeping her metaphorical powder dry for the mead, which she sees as a golden loop in a cup, a stunning and original image. While I think that 'honey-trap' is daring but works colloquially and as an image, I feel that 'for their sins' in the lines above doesn't catch the theological seriousness of the Welsh, which is more like:
Though they went to church to repent
Death's implacable logic ran them through.
Translating early Welsh poetry is an extreme sport, requiring match fitness. I find tracing Clarke's reasons for her choices fascinating, because it gives an insight into her imagination as she performs these elegies. In the end, my quibbles are a matter of taste. For example, in the elegy for Cibno, for example:
He hand-fed the crows…
He wore gold
in the front row
in the war of heroes. (177)
'Adar' in the original refers to birds in general and could be portraying a man, in peace time, holding grain for pets. Clarke's specifying crows here is confusing, given that eagles, ravens and wolves gorge on the carcases of the defeated army. In the poem immediately preceding, 'Gwawrddur', the soldier is described as feeding 'ravens on the fortress wall', a line which I'd read as the hero being food for scavengers. Gododdin's soldiers feasted before the battle, animals feast on the fallen men. Then again, these are choices which Clarke-as-Aneirin is entitled to make.
If
Llyvyr Taliesin
is
The Odyssey,
then
Y Gododdin
is the
Iliad
. By cycling through a number of repeated formulae at the beginning of individual poems, then recounting elegies for individual heroes, the whole poem sways back and forth in grief. It reminds me of the film
300
, a ritualized elegy for Spartans defeated at Thermopylae, based on Frank Miller and Lynn Varley's 1998 comic of the same name. Here is the same juxtaposition of glory and disaster, youth wielding and being cut down by violence. The colour palette – metallic glints, crimson blood and gore – is identical. Leaving its politics aside, the 1964 film
Zulu
, starring Stanley Baxter, uses the same kinds of set pieces, alternating between attention to the individual fighters' qualities and terrifying skirmishes. I find
Y Gododdin
in Welsh repetitious. That reiteration and reformulating may well be part of the drama of trying to deal with overwhelming grief but some passages are much stronger than others, making it poetically uneven.
The parallel text allows the non-Welsh-speaker to see the elaborate alliterations and repetitions of the verse. Aneirin wrote before the codification of these chimes into the strict metres of
cynghanedd
. Basil Bunting, in
Briggflatts
claimed both as his poetic fathers:
Aneurin and Taliesin, cruel owls
for whom it is never altogether dark, crying
before the rules made poetry a pedant's game.
Even in in this earlier form, the metrical complexities of the Welsh are fiendishly difficult to capture in English. This is a challenge to which Clarke is more than equal. She uses internal rhymes with virtuosity, deploys subtle off-rhymes to catch the ghost of monorhymes that go on for stanzas. She's also superb at reproducing the Welsh pattern of rhyming strong (accented) and weak (unaccented) words with each other:
When Caradog charged to war
Gored three mean like a wild boar,

Bull of the army, war machine,
He hand-fed the wolves. Owain

Son of Eulad was my witness
Before they were gone from Catraeth…

After much gold mead taken,
None saw his father again. (59)
To complement the 'Singer's Prologue, Clarke closes her Gododdin with another poem from the same manuscript but not usually counted as part of the sequence. This is 'Pais Dinogad' ('Dinogad's Coat'), a lullaby describing an absent father's exploits to his child. This adds a female voice to an entirely male poem and places both elegies and lullaby in a refreshing new context. Clarke writes: 'I hear it as one more lyric in praise of a man's courage, perhaps in the voice of a woman singing to a child in death's aftermath'.
The cumulative effect of Clarke's economical translation and her formidable poetic gifts for elegy makes this book devastating:
Two thousand of Deifr and Brynaich's men
Died in an hour in mire and mud and blood.

Sooner meat for the wolf than to his wedding.
Sooner carrion for the crow than priest-blessing.
Before his burial, the field lay bleeding.
In the hall where mead flowed free
The poet will praise Hyfaidd Hir. (13)
The dead of Catraeth are still dead, but we have a new Aneirin to praise them.
This review is taken from PN Review 261, Volume 48 Number 1, September - October 2021.