This review is taken from PN Review 260, Volume 47 Number 6, July - August 2021.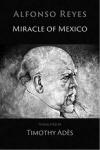 The Shining Beam
Miracle of Mexico, Alfonso Reyes, translated by Timothy Adès (Shearsman) £14.95
In April 1962, John Kennedy hosted a group of Nobel Prize-winners at an Executive Mansion dinner with a studiedly gracious introduction: 'I think this is the most extraordinary collection of talent, of human knowledge, that has ever been gathered together at the White House – with the possible exception of when Thomas Jefferson dined alone'. Those who knew and admired Alfonso Reyes had formed the same impression of him. Octavio Paz, who like Reyes served as a Mexican diplomat abroad, called him a 'collection of writers'. Paz got his Nobel Prize and was reportedly somewhat guilty that Reyes, who died in 1959, did not.

The sheer scale and depth of his writing suggests that he must have been a candidate, but maybe hampered in the committee's eyes by being known better as a journalist and literary investigator and less as a poet. Timothy Adès helps to address and correct that misperception with this marvellous collection. In privileging the Spanish texts on the right-hand, he quite rightly draws attention first to the very precise music of Reyes's verse, which often challenges effective translation. Right from the start, one notices that Adès strives to balance sense with a convincing English cadence: in 'To Cuernavaca', which is rendered in the English version as both 'Cuauhnáhuac!' and 'Cowhorn City!', he replaces Reyes' full stops with semi-colons and renders 'trina la urraca / y el laurerl de los pájaros murmura; // vuela una nube; un astro se destaca' / y el tiempo mismo se suspende y dura...', as 'The magpie's ditty / trills, and the laurel ...
The page you have requested is restricted to subscribers only. Please enter your username and password and click on 'Continue'.
If you have forgotten your username and password, please enter the email address you used when you joined. Your login details will then be emailed to the address specified.
If you are not a subscriber and would like to enjoy the
271
issues containing over
11,000
poems, articles, reports, interviews and reviews, why not
subscribe
to the website today?