This review is taken from PN Review 260, Volume 47 Number 6, July - August 2021.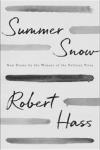 'My holy of holies'
Summer Snow, Robert Haas (Ecco) $16.99
With Robert Hass's substantial new collection, Summer Snow – his first in a decade – we are again in the persuasive company of 'a virtuoso of common American speech' (as the New York Times recently described him). In his conversational way, Hass mulls over a lifetime's preoccupations: the ecology of his native Northern California; meditations on love and loss; political and eco-activism; the serendipities of language and the simple life.

Ever since Field Guide (1973) Hass has devoted himself to admiring and naming: flora, fauna, colours, tastes. He is the poet as guide: reverent, informative and good-humoured. 'Stanzas for a Sierra Morning', which adorns the back of the book, is characteristically descriptive, beginning with a search for wildflowers and ending – as an allegory of the creative act – in some exotic market, 'sipping tea, / An eye out for that scrap of immaculate azure' that is the blue of the sky.

The title Summer Snow alludes to the confusion of seasons in foggy Northern California and reawakenings. While Hass and his poet-wife, Brenda Hillman, are regularly drawn by the need to commune with nature ('you among buckbrush and huckleberry oak with the field guide in hand naming the lichens') other responsibilities intrude and redirect their attention. 'It's brutal, the way some lives / Seem to work and some don't', he writes in bewilderment at the sometimes suddenness of mortality.

'Harvest: Those Who Die Early in Their Middle Years' is one of a number of poems which deal with instances of death ...
The page you have requested is restricted to subscribers only. Please enter your username and password and click on 'Continue'.
If you have forgotten your username and password, please enter the email address you used when you joined. Your login details will then be emailed to the address specified.
If you are not a subscriber and would like to enjoy the
266
issues containing over
10,800
poems, articles, reports, interviews and reviews, why not
subscribe
to the website today?