Readers are asked to send a note of any misprints or mistakes that they spot in this review to
editor@pnreview.co.uk
This review is taken from PN Review 260, Volume 47 Number 6, July - August 2021.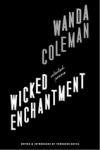 Wicked Enchantment
Wicked Enchantment, Wanda Coleman, ed. Terrance Hayes (Penguin) £9.99
Wicked Enchantment
is the first publication of Wanda Coleman's poetry in Britain.
With the Guggenheim Fellowship, an Emmy and the 2012 Poetry Society of America's Shelley Memorial Award amongst her honours, Coleman was a prolific writer, authoring thirteen books of poetry, alone, during her lifetime. This volume – with its themes including police hassle, hustle, poverty, social invisibility, misogynoir and anti-Black racism – is published eight years after her death in 2013 (the same year the Black Lives Matter movement was founded). There are poems written after Black Panther co-founder, Huey P. Newton ('American Sonnet 16', p.128), and in memoriam of Emmett Till, the fourteen-year-old murdered by white supremacists in 1955, and whose murder is one of the inciting incidents of the modern Black American civil rights movement. There is a bittersweet sense of justice in reading this book: it
should
earn Coleman the title of the official Black Lives Matter Poet Laureate, posthumously.
Perhaps
Wicked Enchantment
will bring the author the international recognition which eluded her in her lifetime. That missing impact during her life had already led Camille Paglia to declare: 'she's not as central as she should be, her language jumps off the page' and scholar Jennifer Ryan to write, in 2015: '[h]er sudden absence from a literary landscape that never fully recognised her particular ingenuity, coupled with the breadth and complexity of her work, signify that now is the time for a major assessment of her oeuvre.'
Wicked Enchantment
is part of that 'major assessment'.
As this selection demonstrates, Coleman's devotional practice, as a poet, was in centring narratives erased by prejudice and privilege and challenging the establishment. In 'Beaches, Why I Don't Care for Them' (pp.14–15) which, in part, concerns how American beach culture (as metaphor for American culture) is hostile to Blackness and Black bodies, Coleman casts herself as the 'feminist ahab stalking the great white whale.' In 'Doing Battle with the Wolf', Coleman's ink-tivism synonymises prejudice and poverty, in turn anthropomorphising them into the lone white wolf which 'howls' and 'scratches' at the door to her home:

armed with my spear, inherited from my father as he
from his mother (who was psychic) as she from her father
(who was a runaway slave) as he from his mother (who
married a tribal witch doctor) – me – african warrior
imprisoned inside my female form […]

The author relishes language as inheritance and, indeed, lineage. Her hereditary 'spear' is reminiscent of Seamus Heaney's pen-as-spade in his poem
Digging
. Writing back is resistance – a craft of making oneself and one's people visible. Indeed, fear of invisibility is a trope in this book. In
Sessions
(pp.10-11), Coleman's narrator vents fury at a mercurial 'doctor' figure regarding her 'absence from the nation's tomes'. In 'Wanda in Worryland' (pp.3–4) Coleman writes: 'I get scared sometimes / and have to go look in the mirror to check if I'm / still here'. Her strategic lineation means the poem lands on a deft, two-syllable, defiant rebuttal to erasure; a compressed slogan worthy of emblazonment on protest sandwich boards and placards. Coleman honed a poetics of polymathy and curiosity; expansive stances against forces of limitation and oppression. She self-defined her practice as, 'a style composed of styles sometimes waxing traditional, harking to the neoformalists, but most of my poems are written in a sometimes frenetic, sometimes lyrical free verse, dotted with literary, musical and cinematic allusions, accented with smatterings of German, Latin, Spanish and Yiddish, and neologisms, and rife with various cants and jargons, as they capture my interest, from the corporate roundtables to the streets (xi).'
This capacious, expansive, shapeshifting, eclectic, abundant, multi-directional, fusive self-definition of her creativity, is best evidenced by Coleman, not solely in her 'sometimes lyrical free verse', but in her sonnets. Thirty-five of the sonnets (from her one-hundred-poem
American Sonnets
series) feature in this selected works. Those sonnets are a pyrotechnic display of dazzle, dirt, desire and downlow; experiments in lineation, case and punctuation – these latter elements hallmarks of post-Black Arts literary protagonists. Coleman shakes the sonnet free from any cosy stereotypes; taking on the form – and challenging its rules at the same time. Sound play, experimentation, refrain and call and response – definers of jazz and blues – are the root-notes of her sonnets, which range from the epistolary to the sensuous syntax of the sultry in 'American Sonnet 26': 'too nice too sincere too there. but lovemonger – / without you this city is a pale rude fiction. […]' The reverberation of feeling for this sonnet's absent 'sweetsistuh goodheart' can be felt, not just in the volta of the tenth-line (which ends on the word 'rubyfruit') but across the whole body of the poem. It culminates (or climaxes?) on a charged couplet: 'along this parched desert floor where deviltongues / ache for the magic rush of your angelgush'.
These are poems of orientation as much as disorientation; Coleman crafted them full of unrest as much as fabulation and fabulousness. In
Wicked Enchantment
here Coleman is: alive in word, pushing poetics forward whilst, Sankofa-style, looking back; as relevant to the present tense as to the past.
This review is taken from PN Review 260, Volume 47 Number 6, July - August 2021.