This review is taken from PN Review 260, Volume 47 Number 6, July - August 2021.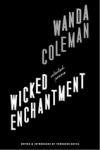 Wicked Enchantment
Wicked Enchantment, Wanda Coleman, ed. Terrance Hayes (Penguin) £9.99
Wicked Enchantment is the first publication of Wanda Coleman's poetry in Britain.

With the Guggenheim Fellowship, an Emmy and the 2012 Poetry Society of America's Shelley Memorial Award amongst her honours, Coleman was a prolific writer, authoring thirteen books of poetry, alone, during her lifetime. This volume – with its themes including police hassle, hustle, poverty, social invisibility, misogynoir and anti-Black racism – is published eight years after her death in 2013 (the same year the Black Lives Matter movement was founded). There are poems written after Black Panther co-founder, Huey P. Newton ('American Sonnet 16', p.128), and in memoriam of Emmett Till, the fourteen-year-old murdered by white supremacists in 1955, and whose murder is one of the inciting incidents of the modern Black American civil rights movement. There is a bittersweet sense of justice in reading this book: it should earn Coleman the title of the official Black Lives Matter Poet Laureate, posthumously.

Perhaps Wicked Enchantment will bring the author the international recognition which eluded her in her lifetime. That missing impact during her life had already led Camille Paglia to declare: 'she's not as central as she should be, her language jumps off the page' and scholar Jennifer Ryan to write, in 2015: '[h]er sudden absence from a literary landscape that never fully recognised her particular ingenuity, coupled with the breadth and complexity of her work, signify that now is the time for a major assessment of her oeuvre.' Wicked Enchantment is part of that 'major assessment'.

...
The page you have requested is restricted to subscribers only. Please enter your username and password and click on 'Continue'.
If you have forgotten your username and password, please enter the email address you used when you joined. Your login details will then be emailed to the address specified.
If you are not a subscriber and would like to enjoy the
266
issues containing over
10,800
poems, articles, reports, interviews and reviews, why not
subscribe
to the website today?