Readers are asked to send a note of any misprints or mistakes that they spot in this review to
editor@pnreview.co.uk
This review is taken from PN Review 260, Volume 47 Number 6, July - August 2021.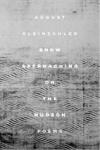 Kissing tenderly
Snow Approaching on the Hudson, August Kleinzahler (Faber) £10.99
In a poem toward the end of August Kleinzahler's new collection, an admiring young driver – presumably tasked with collecting the poet for an event – interrogates him: '
he
was determined, all right // to find out what, I could not surmise. About how / I went about stringing these words together, as I do, / or some clue to be found in my speech patterns or facial gestures?' The interlocutor goes on to ask what seems a pious question about whether Kleinzahler is corporate, an idea that's malaxated in the poem into a curious absurdity. I completely understood the driver's enthusiastic probing, however: Kleinzahler is a virtuosic alchemist with language, and a knowing one at that. He ends the poem, 'And I did like his car, an '87 Signature Series Lincoln Town Car, / 6-way power seats and blue carriage roof. It handled like a dream…'
Stacked modifiers and specific, sometimes technical, often catalogic descriptions are characteristic – there's an indulgent description of a Citroën C4 in the second poem of the book – but what's more interesting is how technology, nature, and human geography cohabit seamlessly in the poet's imagination and are treated with the same musical, luxuriating attention to detail. The title poem first struck me as one of few in the collection with shorter lines, a more clipped lyric and form, but it is an example of Kleinzahler at home on the Hudson, the lingering presence of mist and cloud, the image of a 'giant HD plasma screen… flashing red and green' up next to the 'stamped seal in a Sesshu broken ink scroll', movement in the sky and on the river; 'bustle of traffic in the sky, here, as well, on the shore below'. Implicit too in the poem is the effect of light, another recurring theme, here obscured by mist but elsewhere in the collection it's 'pearly' or 'electric with pinks and reds' (not neon signs, but a description of clouds at sunset over the Hudson).
This is a book of personae and polyphony; Kleinzahler continues his sequences 'Traveler's Tales' and 'A History of Western Music', with poems titled as numbered chapters in these ongoing series. Previous instalments have appeared in earlier collections and in the
London Review of Books
and the poems are voiced by historical or imagined characters, though some are in the poet's voice, such as 'A History of Western Music: Chapter 42', which is addressed to the late William Corbett, a friend and the interviewer in Kleinzahler's
Paris Review
interview. His own voice strikes the note of a wistful storyteller, keenly perceptive, witty, nostalgic – though in a frank and clear-sighted sort of way – and the voices of his characters are fully realised and distinct from the first line:

A quandry, to be sure: kissing, /tenderly, hungrily atop the bluff on a greensward off Boulevard East, / right by the steps of the Old Grauert Causeway, winding down / to the waterfront far below, the Hopper painting, two streets south / on 49th. He must have climbed up all those steps, sketchbook in hand. / She was luscious, my word, was she ever, dark as a Moor and filled with ardor – / for me, if you can imagine. Who can say why? We had only just met, / in the corner of a nearby bar and were almost immediately hard at it.

This from 'East Wind over Weehawken', a startling ekphrastic poem, and 'Chauncy Hare' is another, where the work of an artist is briefly reimagined through the narrative of a character who might exist in its world. Kleinzahler poems thrust the reader into their stories and locations, and the sheer breadth of both in the collection is dizzying; we move from Canada, across America, to Europe and beyond. His subject matter too is as varied as his cast of characters; we encounter a colony of ants at war (in perhaps my favourite poem of the collection), an Italian filmmaker, a Greek shipping magnate, couples on holiday in Istanbul or Paris, a long list of Joneses, a homeless 'Shadow Man', an errant women's soccer coach, an old flame looking for an agent… This smorgasbord of a collection displays not only facility across registers, with diction and voice, a poet who's a masterful technician, but also one who is deeply curious about the world and able to transmute that curiosity into vivid, satisfying storytelling that moves fast but unlocks slowly for the reader – Chambers and Google may be welcome friends.
This review is taken from PN Review 260, Volume 47 Number 6, July - August 2021.