This review is taken from PN Review 260, Volume 47 Number 6, July - August 2021.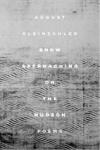 Kissing tenderly
Snow Approaching on the Hudson, August Kleinzahler (Faber) £10.99
In a poem toward the end of August Kleinzahler's new collection, an admiring young driver – presumably tasked with collecting the poet for an event – interrogates him: 'he was determined, all right // to find out what, I could not surmise. About how / I went about stringing these words together, as I do, / or some clue to be found in my speech patterns or facial gestures?' The interlocutor goes on to ask what seems a pious question about whether Kleinzahler is corporate, an idea that's malaxated in the poem into a curious absurdity. I completely understood the driver's enthusiastic probing, however: Kleinzahler is a virtuosic alchemist with language, and a knowing one at that. He ends the poem, 'And I did like his car, an '87 Signature Series Lincoln Town Car, / 6-way power seats and blue carriage roof. It handled like a dream…'

Stacked modifiers and specific, sometimes technical, often catalogic descriptions are characteristic – there's an indulgent description of a Citroën C4 in the second poem of the book – but what's more interesting is how technology, nature, and human geography cohabit seamlessly in the poet's imagination and are treated with the same musical, luxuriating attention to detail. The title poem first struck me as one of few in the collection with shorter lines, a more clipped lyric and form, but it is an example of Kleinzahler at home on the Hudson, the lingering presence of mist and cloud, the image of a 'giant HD plasma screen… flashing red and green' up next to the 'stamped seal in a Sesshu broken ...
The page you have requested is restricted to subscribers only. Please enter your username and password and click on 'Continue'.
If you have forgotten your username and password, please enter the email address you used when you joined. Your login details will then be emailed to the address specified.
If you are not a subscriber and would like to enjoy the
266
issues containing over
10,800
poems, articles, reports, interviews and reviews, why not
subscribe
to the website today?