This review is taken from PN Review 260, Volume 47 Number 6, July - August 2021.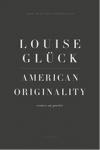 The Utility of Happiness
American Originality, Louise Glück (Carcanet) £14.99
Louise Glück, American author of twelve books of poetry, won the Nobel Prize for literature in 2020. This honour was bestowed not only for books of poems but also for two collections of essays:
Proofs & Theories
(1994) and
American Originality
(2017). Over the last half century, beginning with
Firstborn
, Glück's books of poems have been published at intervals ranging from seven to two years, garnering much attention (including a Pulitzer for
The Wild Iris
); the two books of essays saw a gulf of over twenty years between them, despite acclaim for
Proofs & Theories,
which won the PEN/Martha Albrand award. What does
American Originality
offer, following so late on the heels of
Proofs
?
There's notable similarity between these books; in both, one hears Glück discussing poetry as if to a group of fortunate students (she has been teaching poets almost as long as she's been publishing). 'American Narcissism', 'Ersatz Thought', 'On Buddenbrooks', and 'American Originality' – the essays of Part One, academic even in title, each take the shape of a well-wrought lecture as Glück builds her thought and anticipates questions. These essays draw from a wealth of experience in the field – for example, in 'On Originality':

Under the brazen 'I made up a self' of the American myth, the sinister sotto voce, 'I am a lie.' […] The literary art of our time mirrors the invented man's anxiety; it also affirms it. You are a fraud, it seems to say. You don't even know how to read. And for writers, this curious incomprehension, ...
The page you have requested is restricted to subscribers only. Please enter your username and password and click on 'Continue'.
If you have forgotten your username and password, please enter the email address you used when you joined. Your login details will then be emailed to the address specified.
If you are not a subscriber and would like to enjoy the
268
issues containing over
10,900
poems, articles, reports, interviews and reviews, why not
subscribe
to the website today?