This review is taken from PN Review 259, Volume 47 Number 5, May - June 2021.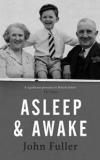 Reasons to be Grateful
John Fuller, Asleep & Awake (Chatto Poetry)
John Fuller's new collection opens with a poem called 'Awake and Asleep', a quizzical meditation on some of the two words' meanings.

To have ever become awake at all Seems a great privilege, and something / Of an accident, all things considered. / … / Waking is what we daily hope for. / Oblivion is a total forgetting / Of everything that has occurred.

Over a hundred pages later, the collection ends with a slyly witty poem, 'No Turning', full of seemingly haphazard, teasing rhymes, whose final words are 'And that's enough, for sure', the comma serving to insist on the acceptance of whatever happens to happen. In between comes a series of sequences, if that's not too grand a word, that record different stages of the poet's life, from childhood to old age.
First, 'In War Time', seventeen lyrics about early years spent living with his grandparents, where time presents itself as less a narrative than a number of vivid images: spots of time. There is, for example, the grandfather clock, a 'house with no floors / And no stairs, only / A carven darkness / ... / A coffin for time.' There is the moment of illness which leaves the boy puzzling that 'I might have died, / Never waking one morning and not / Knowing that I had not woken, / And no one tells me the time.' There is the moment where, awake, he finds himself on the hillside of his grandfather's waistcoat, 'Feeling the growling of his digestion, / Intermittent like a bi-plane / Trailing advertisements above the sand'. In another, he watches as the radio's ...
The page you have requested is restricted to subscribers only. Please enter your username and password and click on 'Continue'.
If you have forgotten your username and password, please enter the email address you used when you joined. Your login details will then be emailed to the address specified.
If you are not a subscriber and would like to enjoy the
266
issues containing over
10,800
poems, articles, reports, interviews and reviews, why not
subscribe
to the website today?