This review is taken from PN Review 259, Volume 47 Number 5, May - June 2021.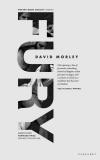 Against Erasure
David Morley, Fury (Carcanet Press)
'All animals are orphans' says the speaker of 'Orphans of Orphans', a self-aware type, noting the 'nature poem' of his activity, turning soil in the garden, becoming 'a symbiont wrecker of temples' to the 'courting robins'. David Morley's latest collection is less orphaned than densely parented, a sonically rich study in inheritances and in the responsibility of carrying on a line, on being the endpoint of – often nameless – forebears. The title poem about current heavyweight Tyson Fury, a giant British Romany whose bulk belies an unusual fleetness and who talks openly about having survived suicidal impulses, takes its language from Fury's interviews. Morley makes use of the loaded doubleness of Fury's apparently flat phrases, such as 'My three brothers are the same as me', which echoes across the collection, quietly portentous, a blend of continuity and disenfranchisement: 'But nothing's talked about in my family'. Fury becomes an apt symbol for Morley's pressing concerns, a complicated, often troubled figure associated with violence but liable to burst into song, or tears; a showman whose ringcraft has much in common with another character, in 'The Thrown Voice', that of a magician who 'made mad magic / before the booze'. Like Fury at his lowest ebb, this stylist who 'could pirouette playing cards on his palm' has lost his gift, frittered away his skill and is lost to the DTs. He 'holds out his trembling hands', a sly nod, at the poem's close, to Keats's living one, alluded to in 'Translations From A Stammerer'.

The centrepiece of Fury is a sequence, 'The ...
The page you have requested is restricted to subscribers only. Please enter your username and password and click on 'Continue'.
If you have forgotten your username and password, please enter the email address you used when you joined. Your login details will then be emailed to the address specified.
If you are not a subscriber and would like to enjoy the
271
issues containing over
11,000
poems, articles, reports, interviews and reviews, why not
subscribe
to the website today?