This review is taken from PN Review 258, Volume 47 Number 4, March - April 2021.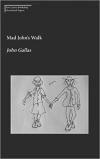 Momently Carried Across
Mad John's Walk, John Gallas (Five Leaves);
The King of the Lam, Greg Delanty (Southword Editions);
Satyress, Audrey Molloy (Southword Editions);
Parturition, Heather Treseler (Southword Editions)
Every couple of months, my beneficent masters at PNR Acres dispatch a big Jiffy bag full of pamphlets to me, and I leaf through them idly, between a cafetière and a recycling bin. A fair proportion are always evidently either plausible or good, so I sort those quite hastily into a 'maybe' pile and then spend too much of my time anxiously determining which deserve my column inches. But there is a third category, less common to books of poems, and overlapping the other two. Let us label it 'fascinatingly odd'. When I come across some of the pamphlets in this misshapen group, I am reminded of the origins of the pamphlet or 'chapbook' in street literature, broadside ballads and unfashionable and unsanctioned political and personal outpourings, and sometimes I get really excited.

John Gallas's Mad John's Walk just about fits into this category, and comes from the press of Five Leaves Bookshop in Nottingham, which has a proudly radical political outlook and, by some estimations, the best poetry selection in the UK outside London. To introduce it, I may as well emulate the practice of some poetry reviewers at our only newspapers that still carry poetry reviews, and lean on the blurb – though I'll quote rather than paraphrase: 'In the autumn of 2016, poet John Gallas decided to follow the route taken by John Clare when he escaped from Matthew Allen's High Beach Asylum in Epping Forest and made his way back to his home in Northborough. This pamphlet is a light-hearted account of that eighty-mile journey'. Gallas is habitually witty ...
The page you have requested is restricted to subscribers only. Please enter your username and password and click on 'Continue'.
If you have forgotten your username and password, please enter the email address you used when you joined. Your login details will then be emailed to the address specified.
If you are not a subscriber and would like to enjoy the
271
issues containing over
11,000
poems, articles, reports, interviews and reviews, why not
subscribe
to the website today?