This review is taken from PN Review 258, Volume 47 Number 4, March - April 2021.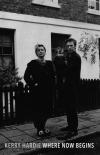 Salt, flame
Where Now Begins, Kerry Hardie (Bloodaxe Books) £9.95

Kerry Hardie writes with clarity and directness of a world seen freshly. She can conjure a scene in a few words: a garden, a room, the landscape beyond her window. I admire the subtle way she moves towards insight. Her poems are deeply personal yet have a mythic quality.

Hardie lives in County Kilkenny with her husband, the writer Sean Hardie. (It is relevant to mention this as one has a sense of two lives lived alongside each other. 'This is the room we inhabit, / fragile as glass, / the light passing through' she writes in 'Real Estate'.) She describes this collection, her eighth, as a 'fairly dark book'. Written before the events of 2020, it reflects on time passing, conflict ('Civil War Aftermath' stands out), memory, relationships, ageing and the death of friends and family. But all this is weighed against an intense love for the physical world.

In 'Time Passing', my favourite poem in the book, Hardie longs to experience again a 'fierce lust for the world / but that's memory now'. Her love for the world has not diminished, and she looks for words that 'lie about in the piles of old rags / on the cluttered floor of my mind, / yet still the sweetness is here'. An elegy for her sister considers the bittersweet nature of life and love, 'salt, flame, / sweet honeycomb. / That is why we suffer so.' There are other elegies – for the poet Ciaran Carson, for friends; the loss of her father and the more recent death of her mother ...
The page you have requested is restricted to subscribers only. Please enter your username and password and click on 'Continue'.
If you have forgotten your username and password, please enter the email address you used when you joined. Your login details will then be emailed to the address specified.
If you are not a subscriber and would like to enjoy the
266
issues containing over
10,800
poems, articles, reports, interviews and reviews, why not
subscribe
to the website today?